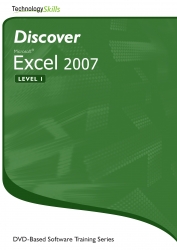 San Ramon, CA, October 18, 2008 --(
PR.com
)-- Technology Skills, Inc. has announced the release of DVD-based training courses for Microsoft Office 2007. All titles are available for immediate shipment.
Each course is designed to help users learn at their own pace and in their own space. The Main Menu displays all the chapters within the course. Click on a chapter, and a detailed list of topics within the chapter appears. Plus, at any time, users can repeat a topic or jump to anywhere in the course.
After completing all the topics in a chapter, users can see how much they have learned by taking the Chapter Quiz.
And, there is much that is new compared to recent versions of Microsoft Office.
The software programs feature a completely new look and feel, with Ribbons, Contextual Tabs, Galleries, and Live Preview replacing menus and toolbars. Plus, there are enhanced features to understand, such as XML file formats, improved document protection, shared formatting themes, and enhanced collaboration tools.
Developed with DiscoverWare, an international leader in Microsoft Office training, the backbone of each course is sound instructional design. Scripts are developed and written by education experts. And unlike some products where the addition of media is an afterthought…software simulations are so real, you feel like you are actually using the Microsoft Office application.
Each course has an average running time of between 110 and 120 minutes.
Interactive training on CD-ROM is scheduled for release in January, 2009 for individual and multi-user licensing.
###