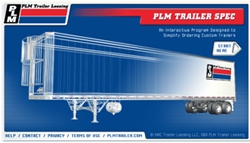 Montvale, NJ, October 25, 2008 --(
PR.com
)-- PLM Trailer Leasing has designed, developed and implemented an interactive web based program to simplify and assist both customers and OEM vendors in the designing and ordering of customer specific refrigerated semi-trailers. "The program allows our customer to go on-line and follow easy to comprehend steps which allows them to pick and choose options for their trailers, while at the same time showing them what the finished product will look like. At the end of the spec process, the program will provide the client with a comprehensive trailer spec while at the same time notifying their PLM account manager so that they can follow up with the client to discuss the spec in depth," stated John May, Maintenance Manager for PLM. The trailer spec program may be accessed through PLM's website or directly by going to
www.plmtrailerspec.com
.
PLM stocks a wide variety of refrigerated semi-trailers for rent or lease including single-temp and specialized multi-temp units for the Food Service industry. PLM operates a North American network of 26 company locations across the United States and Canada. For more information visit www.plmtrailer.com or call (877) RENT PLM.
PLM Trailer Leasing, headquartered in Montvale, New Jersey, is a full service leasing company in the Cold Supply Chain. PLM is a niche company, focused on creative value contributions to temperature-controlled transportation, distribution, and storage businesses. PLM Trailer Leasing, the operating name of MAC Trailer Leasing LLC, is a wholly owned subsidiary of Marubeni America Corporation, the North American arm of Tokyo-based Marubeni Corporation, one of the top five "Sogo Shosha" Japanese trading companies. For more information, visit www.plmtrailer.com.
Except for historical information, the statements contained in this press release are forward-looking statements made pursuant to the safe harbor provisions of the Private Securities Litigation Reform Act of 1995. All such forward-looking statements are subject to, and are qualified by, risks and uncertainties that could cause actual results to differ materially from those expressed or implied by those statements. These risks and uncertainties include, but are not limited to, reduced demand for information technology equipment; competitive pricing and difficulty managing product costs; development of new technologies which make the company's products obsolete; rapid industry changes; failure of an acquired business to further the company's strategies; the ability to maintain satisfactory relationships with lenders and to remain in compliance with financial loan covenants and other requirements under current banking agreements; and the ability to secure and maintain key contracts and relationships.
###