"Eye on Business" Interviews Tech Coast Angels Chairman Frank Peters
Executive Producer David McNeil and Producer Dawna Lee Heising Film Show with Podcast Entrepreneur.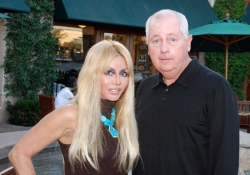 Newport Beach, CA, October 30, 2008 --(
PR.com
)-- David McNeil, executive producer of "Eye on Business: Secrets of Success & Interesting People" announced that the show's latest segment contains an interview with Frank Peters, the chairman of Tech Coast Angels (TCA) and the host of the dynamic and leading-edge podcast, "The Frank Peters Show."
Dawna Lee Heising interviewed Peters in Newport Beach about "The Frank Peters Show" and his role as Chairman of the Tech Coast Angels in a show directed by David McNeil. Peters discusses his early business roots, including, his company Plaid Brothers Software, which started in 1983 in Orange County, California. Plaid Brothers was designed to run portfolio management and contact management systems.
The portfolio software pulled Frank Peters east to Wall Street and New York City. After running the company for 15 years, he sold the company and devoted himself to dance photography both in New York and at the University of California at Irvine. Peters now lives back in Orange County, California, and is a member of the Dean's Leadership Council in the Claire Trevor School of the Arts at UC Irvine and is Chairman of the Tech Coast Angels (TCA).
Peters has been angel investing since 1999 when he joined Charlotte Angel Partners. Frank joined the Orange County Tech Coast Angels in 2003. The Tech Coast Angels (www.techcoastangels.com) are one of the largest angel investment groups in southern California, and also one of the largest and most respected organized angel groups nationwide. Tech Coast Angel members invest in southern California companies, and look for products and services that can achieve rapid adoption in very large markets.
Peters is the host of the hugely successful podcast, "The Frank Peters Show". This popular podcast is highly regarded by its fast-growing audience. The show discusses topics regarding angel and venture capital investing, entrepreneurship and southern California's technology sector. "The Frank Peters Show" is available via iTunes and at www.TheFrankPetersShow.com.
When podcasting got kick started by Apple, Peters observed that the TCA had valuable and interesting content. He saw that TCA members had real drama in their stories. The purpose of the podcast is to engage knowledgeable guests in stories about their successes and failures - all in the effort to help educate those who are either in the mode of trying to raise funding, or are in angel or venture capital investor space.
Eye on Business: Secrets of Success & Interesting People
"Eye on Business: Secrets of Success & Interesting People" (EOB) is a high-energy, high-impact program that uses an entertainment-style delivery, yet focuses on both cutting-edge business stories and the interesting people involved in their creation. EOB's executive producer is David McNeil, who learned his craft during his ten-year tenure at United Artist Entertainment. He is widely known for his professional photography and is a member of both Mensa and the MensaProcess Think Tank. The show is co-produced, co-directed and co-edited by John Cox, a staff member in the film and video department at Orange Coast and Golden West Colleges, and co-edited by Jocelyn R.C., a video student at Chapman College. The co-producer and co-host of EOB is Dawna Lee Heising, a corporate communications and investor relations professional for a leading international technology company listed on the London Stock Exchange (LSE). Dawna is Ms. World 2008. Her co-host, Stan Goodrich, is a public relations manager for an international software company and was the editor of "Computing News" for ten years.
www.EyeOnBusiness.tv
is part of EYEON PRODUCTIONS. Also, see www.EyeOnEntertainment.tv for information on another EYEON show focused on the entertainment industry.
###
Contact
Eye on Business
Dawna Lee Heising
(714) 390-7122
www.EyeonBusiness.tv

Contact