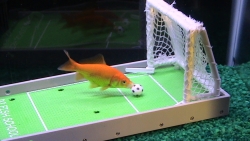 Pittsburgh, PA, November 14, 2008 --(
PR.com
)-- Dr Dean Pomerleau is the owner of two very famous fish. "Albert Einstein" is recognized as the world record title holder in the category of "fish with the largest repertoire of tricks" and "Comet" the soccer playing goldfish is an internet sensation.
The R2 Solutions development team and noted fish training expert, Dr. Dean Pomerleau, collaborated to create the R2 Fish School kit.
The R2 Fish School kit is the world's first complete fish training system. Each kit includes an extensive collection of fish training tools, as well as an illustrated manual and DVD that provide step-by-step instructions.
With new fish trainers being added daily the hobby of fish training is growing rapidly. "With the correct tools and the basic promise of a food reward, fish can very quickly learn complex tricks," says Dr Dean Pomerleau.
"We have received video of fish trained to swim through a hoop 4 times before the trick is completed and the fish rewarded," says Russ Ronat of R2 Solutions "It is amazing to see the tricks that our customers have taught their fish."
Fish have the ability to learn and complete complex tricks. Tricks like the limbo, slalom, soccer, basketball and even fetch have been mastered by fish.
After all the recent news on the President-elects search for a hypoallergenic dog, Dr. Pomerleau has a suggestion.
"Why not a well trained, hypoallergenic, family fish, my fish "Comet" can do some tricks as well as any dog I have ever seen," says Dr. Pomerleau. "Comet" regularly performs the "fetch" trick. Using food rewards Dr. Pomerleau has trained his fish to swim to the bottom of a fish tank, retrieve a small ring and return it to the top of the tank.
The R2 Fish School kit is available at retailers nationwide. You can see "Comet" shooting hoops, kicking field goals, playing fetch and more at www.r2fishschool.com
R2 Solutions will post the winners video and award a monthly prize to the best submission.
Customer are asked to email "fish trick" Youtube video links to:
r2fishschool@gmail.com
About R2 Solutions
R2 Solutions specializes in the manufacturing and development of unique, innovative pet products. R2 Solutions' current products include the popular R2 Aquarium Moonlights, a complete line of moonlights for aquariums of all sizes.
###