Birdsall Tool and Gage Co. Offers Attribute Gage System Management
Birdsall Tool & Gage now offers a new way of tracking attribute gages on the manufacturing floor. Most template gages, Go/No-Go gages and other attribute gages are lost, stolen, or just not available for the operator to use. The BTG custom gage management system is a simple way to reduce loss, increase productivity, and ultimately, improve quality. Check out their site for more information at birdsalltool.com.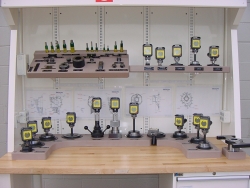 Detroit, MI, November 14, 2008 --(
PR.com
)-- Attribute gages are notoriously hard to keep track of. When left laying around, they find themselves under benches, in baskets, and tossed with the garbage. The Birdsall Tool and Gage bench system provides individually marked locations for each attribute gage. Elevated for easy view by staff leaving plenty of room on work surfaces. In some cases, attribute gages are stored in order of use for increased accuracy during inspection.
Management is able to pass by a gaging station and immediately locate any attribute gages that are missing. In many cases, the cost of a Birdsall Tool & Gage management system is less than the price of one or two gages. Check out their web site for more information on how they can reduce your total cost and lower the stress of losing your hand gages
Birdsall Tool & Gage Co. designs and builds fixture gages, fixed gages, inspection and gaging accessories, ring gages, plug gages, thread gages, snap gages, electronic gages, mechanical gages, data collection gages, masters and setting gages, CMM fixtures, special tools and tooling with customer satisfaction in mind. Call 248-474-5150 or email them at
blog@birdsalltool.com
for more information about their company.
###
Contact
Birdsall Tool & Gage Co.
David Birdsall
248-474-5150
www.birdsalltool.com
24735 Crestview Ct
Farmington Hills, MI 48335
248-4745600 Fax

Contact