Shabtai Gourmet Gluten Free Bakery Makes Gluten Free Brownie Bites and Wins Best New Kosher for Passover Dessert at Kosherfest 2008. Their desserts are Dairy Free too.
Shabtai Gourmet Gluten Free Bakery wins Best New Kosher for Passover Dessert at Kosherfest 2008 in the Meadowlands, NJ. This Allergen Free bakery bakes desserts that are gluten free, casein free, lactose free, soy free, dairy free, corn free, and certified Kosher Parve. Their sweets are available at fine health food stores, and they are currently offering free shipping on their website www.shabtai-gourmet.com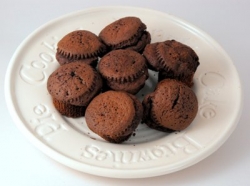 Woodmere, NY, November 17, 2008 --(
PR.com
)-- Shabtai Gourmet Gluten Free Brownie Bites wins first prize at Kosherfest 2008 for Best New Kosher for Passover dessert.
Shabtai Gourmet has once again won first prize at this year's KosherFest 2008, convened at the Meadowlands Convention Center, on November 11-12, for the best new Passover dessert product introduced to the kosher marketplace. Brownie Bites are super moist brownies, baked in mini cupcake size portions. This item is Gluten Free, as well as Kosher for Passover. These bite size treats, have no hydrogenated oils, and have Zero Trans Fat, and are absolutely delicious.
This is, stunningly, the fourth time, in the last 7 years that a Shabtai product has captured this coveted prize. This is consistent with Shabtai's nonstop drive to gauge market demand, and be the first to bring new products to the market. Just last year Shabtai won the prize for their Marzipan Sushi., a confectionary dessert that is a stunning replica of the finest sushi now sold all over the world as a result of the latest culinary craze, spreading around the United States. Judges at the testing event were afraid to taste the product, at first, because it was not sitting on a bed of ice, and were concerned that the sushi was already spoiled. They were absolutely fooled into believing that it was real sushi. Marzipan, a sweet combination of almonds and sugar, was not invented by Cinderella Sweets, the bakers of the Shabtai Gourmet brand of Passover cakes & cookies, but has made something beautiful with it that no food company has had the vision to do yet.
In previous years, Shabtai Gourmet has won first prize at KosherFest for it's Ring Tings in 2001, a Passover version of the famous all American snack cake, and again in 2006, for it's Bell Ring Layer Cake, a chocolate iced devils food ring cake with mounds of vanilla crème filling and topping. This company is right on target, for knowing what the consumer wants, and bringing it to the marketplace.
Cinderella Sweets owner, Cindy Fern Itzkowitz, has brought a fresh and exciting new approach to Passover cake production, and marketing. Cindy says that," All bakers and food manufacturers use similar ingredients, but very few bakers have the creativity, patience, and talent to turn an ordinary pound of ingredients into an exquisitely crafted pound of cake, or cookies."
Consumer response to the Shabtai Gourmet Passover brand for the last 7 years has been so positive, that store managers find that Shabtai products fly off valuable shelf space as soon as they are put on display, while the competitions products languish on the shelves long after the Passover has come and gone. Cinderella Sweets services the retail trade, institutional food services, and fine Passover resort hotels, worldwide.
Shabtai Gourmet is certified kosher for Passover by the worldwide leader in kosher food supervision, the OK Laboratories, and bears its trademarked CIRCLE K symbol.
Cindy and her son Andrew can be reached at (516) 652-5671. They can ship their gluten free and Passover desserts all across the United States and around the World. Visit them online @
www.shabtai-gourmet.com
###
Contact
Shabtai Gourmet Gluten Free Bakery
Andrew Itzkowitz
(516) 652-5671
www.shabtai-gourmet.com

Contact