New Device from My Medical Memory Offers Portable, Private, Updateable Medical Records…in a Flash
Designed by doctors, My Medical Memory is a private, portable, updateable device that allows patients to carry their medical records everywhere they go. At a time when nearly 100,000 people die each year due to preventable medical errors, this information can help physicians provide better care and save lives.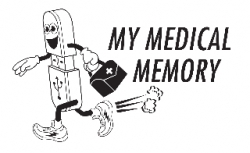 Scottsdale, AZ, November 19, 2008 --(
PR.com
)-- My Medical Memory announces the launch of its core business product, a portable, private, updateable flash drive that allows patients to manage and store their medical records. The company has developed a simple, efficient process to help patients request and obtain their relevant health information. Then My Medical Memory uses secure software to download the records onto a flash drive that arms patients with critical health data, everywhere they go.
My Medical Memory is the brainchild of three successful working women: Mary Mazza, D.O., an emergency room physician, Jerry Ellen Owensby, M.D., an internist, and Barbara Abbate, a small business owner with more than 10 years experience in medical records management. The idea originated with Dr. Mazza after a particularly tough night in the ER.
"I had a shift where literally no one knew anything important about themselves," Dr. Mazza recalled. "One woman even forgot she'd had cancer!" As many as 98,000 people die in hospitals each year as a result of preventable medical errors, and this lack of adequate information is to blame. My Medical Memory is committed to improving patient outcomes and saving lives by making sure doctors have all the information they need, when they need it.
The My Medical Memory device is a 1G flash drive that's worn as a necklace or on a keychain. It is accessible from any computer with a USB port, and the software is contained on the device and loads in a PDF reader format. Enrollment is available by phone or online, and prices start at $59.99 annually.
"Literally any doctor with a computer will be able to use this and get life-saving information instantly," Dr. Mazza said. "When seconds count, you just can't afford to wait for faxed records or a return call."
My Medical Memory is the first local company to provide portable medical records on a flash drive within a physician-advocated framework. It is dedicated to helping patients get consistent, quality healthcare and to helping physicians get the information they need to provide it. The company is privately held and based in Scottsdale, AZ. Images available upon request.
Contact:
Brittany Abbate, Marketing Director
My Medical Memory
(602) 535-000
fax (602) 535-0001
Brittany.abbate@mymedicalmemory.org
www.mymedicalmemory.org
###
Contact
My Medical Memory
Brittany Abbate
602-535-0000
www.mymedicalmemory.org
877-7MEDREC

Contact