Luxury Honeymoon in Vietnam by Exotissimo Travel
Exotissimo Travel introduces new luxury Vietnam honeymoon package to provide couples with cherished moments in Southeast Asia.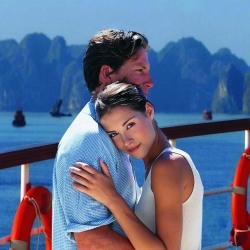 Bangkok, Thailand, November 26, 2008 --(
PR.com
)-- Exotissimo Travel, the leading destination management company in Southeast Asia, continues to offer the best in luxury travel with its newly launched 'Honeymoon in Vietnam' tour.
A package specially designed for honeymooners, this 16-day trip is a blend of culture, fun and relaxation while allowing couples to indulge in some of the most luxurious and intimate accommodation in Vietnam.
Beginning in Hanoi, the romantic journey travels down the coast to Ho Chi Minh City. Along the way, stops include a charming cruise amongst the limestone islets of Halong Bay, several days in the heritage town of Hoi An and an exotic excursion through the canal networks and floating markets in the Mekong Delta.
The honeymoon consists of special activities and unique opportunities. Couples can enjoy a private cooking class, pamper themselves with the top of the line spa treatments, guided walking tours, and a city tour in a classic Citroen car. There is also a balance of free time for honeymooners to explore the quaint local streets or dine in some of the best restaurants in Vietnam.
To enhance the honeymoon experience, Exotissimo has carefully selected secluded beach getaways to complement the couple's time in Vietnam. In Nha Trang, the couple can enjoy idyll moments in their deluxe hideaways or discover the stunning marine sites in the vicinity. In Southern Vietnam, a stay on the pristine Phu Quoc Island wraps up the journey.
"With the emergence of beach destinations and a growing number of luxury and boutique resorts, Vietnam is now defining itself as an attractive and ideal honeymoon choice," commented Exotissimo Vietnam's Product Manager, Ms Maeve Nolan.
"We understand that a honeymoon is one of the most special holidays in a person's lifetime," she added, "With our expertise and in-depth knowledge of Vietnam, we are able to deliver a holiday experience that is beyond expectations, even for the discerning travellers."
With over fifteen years of experience in Vietnam, Exotissimo leads the way for tailor made honeymoon packages in the Southeast Asian region. Besides Vietnam, Exotissimo also offers luxury honeymoon packages to Thailand and Myanmar.
Exotissimo's 'Honeymoon in Vietnam' is offered year-round and can be tailor made to fit couple's requirements and preferences. The package is available for viewing and booking here:
Luxury Honeymoon Vietnam
About Exotissimo Travel
Exotissimo Travel is a premier DMC in Vietnam, Cambodia, Laos, Myanmar and Thailand. Opened in 1993, the company is now a network of 15 locally-based offices staffing over 500 travel professionals, and sales offices in San Francisco, Paris, Berlin, Barcelona and Melbourne. For more information, please visit www.exotissimo.com
###
Contact
Exotissimo Travel Group
Hamish Keith
(66 2) 636 0360
www.exotissimo.com
Damien Pfirsch
damien@exotissimo.com

Contact