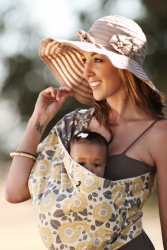 San Francisco, CA, December 03, 2008 --(
PR.com
)-- The Peanut Shell launches its new Serendipity collection of baby slings, nursing covers, and hospital gowns, offering today's mother true designer alternative to drab baby carriers.
Available in new designer Peanut Shell® fabrics, the Serendipity line products are made from designer weight fabrics and include patterns from well-known designers Joel Dewberry and Amy Butler.
The collection was inspired by the unexpected treasures found in life. A love letter from your husband penned to you after your first date - in a jacket you haven't worn in years. This is serendipity. And like their newest line of Slings, Maternity Gowns, and Nursing Covers, the surprise is in the fabrics and the gorgeous chic patterns - all of which will reflect your style, spirit and essence.
"We noticed a trend growing in the market that all baby slings were starting to look the same from brand to brand," says founder and owner Alicia Shaffer. "At the Peanut Shell® we have stepped outside the box and launched Serendipity, a collection of truly designer baby slings with feminine, thoughtful details that you will not find elsewhere," she further explained.
"We are so excited at the response to the new Peanut Shell® line and love seeing our hard work and innovative designs being well received" says Stephanie Frazier, wholesale sales lead.
The Serendipity collection of slings and nursing covers will start to ship December 20, 2008 and boasts a pattern suitable for any taste or style. You will find thoughtful designer details on the slings including rounded edges, the Peanut Shell® original slim shoulder, pocket, toy loop, updated packaging, accent piping, and slim leg padding. On the nursing covers you will find adorable button closures, matching burp cloth, scalloped edges and accent piping.
The Peanut Shell® is an innovative parenting essentials design company. Their mission is to thoughtfully create practical parenting gear fused with a fashion-forward style that reflects the attitudes of today's on-the-go parents. has appeared on The Big Idea with Donny Deutch, in the book Rock Star Mama, and her slings have been seen on numerous celebrity moms as well as earned the endorsement of baby pediatriciansAlicia Shaffer. www.thepeanutshell.com
###