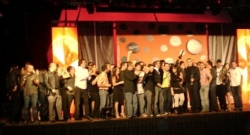 Santa Ana, Costa Rica, January 03, 2009 --(
PR.com
)-- At the recent Volcán Centroamericano Festival,
Tribu Saatchi & Saatchi
was named the 2008 Agency of the Year by the Association of Advertising Agencies of Costa Rica, ASCAP.
With outstanding creative work for, Aceite Salat (DIPO), Peninsula de Osa Foundation, Pinturas Kativo, UNICEF, BAC Pensiones others, the agency won 2 Grand Prix as well as an astonishing 34 Volcanoes – 14 Gold, 16 Silver and 4 Bronze.
The night's big winner was the agency's print campaign for DIPO's Salat olive oil, which took the Print Grand Prix on top of 2 Gold and 2 Silver Volcanoes. This brought it the competition's top award, the Volcán Grand Prix, as well as netting client DIPO the Advertiser of Year Award.
It was also a good night for The Osa Foundation, a non-profit organization dedicated to active rainforest conservation and cultural heritage projects on the Osa Peninsula. Tribu Saatchi & Saatchi's compelling work won 8 Volcanoes in all, including a Gold and 2 Silvers for their 'Eagle' and 'Toad' TV campaign, and a Gold and a Silver for their 'Logs' outdoor idea.
And there were awards galore too for Pinturas Kativo – a Gold and 3 Silvers for Protecto Washable Fabrics, and 4 more Silvers across their other brands.
After topping the tables at both Volcán and the Pregoneros, the country's two most important creative contests, Tribu Saatchi & Saatchi is now recognised as the leading creative agency in Costa Rica. Although a small market, with major global networks such as DDB, BBDO, Grey, Lowe and Ogilvy represented, it is also highly competitive.
Javier Mora and Pablo Chaves, the agency's Executive Creative Directors, said, "Tribu Saatchi & Saatchi is now Agency of the Year in Costa Rica. Our next challenge is to join the elite of the creative agencies in the Saatchi & Saatchi Network, by achieving international awards at the Clios, FIAP, Cannes and more in 2009."
CEO Jorge Oller commented, "We share Saatchi & Saatchi's inspirational dream and are focused on Lovemarks. Ask us about our obsession, and you'll find one voice in Tribu Saatchi & Saatchi: to be the most inspiring creative powerhouse of our region."
For further information, contact:
Rosaura Arce +506 2209 7700, rosaura.arce@tribu.cr
###