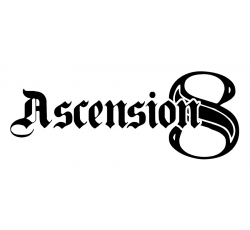 Budd Lake, NJ, January 27, 2009 --(
PR.com
)-- Founders of designer T-shirt and apparel line Ascension 8, Christina Santoli and Anna Pereira, have one mission. Through their spiritually blessed fashion line of designer T-shirts for men and women they want to impact the world in a positive way, one Ascension 8 apparel customer at a time.
Christina Santoli is a renowned psychic and medium (www.ChristinaPredicts.com). Anna Pereira is an artistic fashion designer. Christina approached clothing designer Anna Pereira during the summer of 2008 with an idea to create a high-end, artistically designed T-shirt line that can help people through positive energy. "I want to help heal the world, especially in these hard economic times," states Ascension 8 partner and psychic, Christina Santoli. "Anna's style and experience in the fashion industry made it clear to me that we were meant to cross paths and bring Ascension 8 to life."
"The idea of my customers' T-shirts being spiritually blessed by a highly regarded psychic and healer sounded very appealing to me. I love the idea of combining a designer apparel line that is trendy and fashion forward with the ability to help our customers attract love, health and financial prosperity by wearing our T-shirts," states Anna Pereira
These two New Jersey women came together, combining spiritual expertise and artistic talent to create the Ascension 8 T-shirt and apparel line. The
Ascension 8 T-shirt line
is a story of two women with the same passion to change the world, and a unique dynamic of producing spiritually blessed designer T-shirts that will do just that, by changing what the wearer of each T-shirt attracts into their life.
"Of course, wearing an Ascension 8 T-shirt is not a lottery ticket," states Anna. "We are simply trying to create a movement. The feedback Ascension 8 has received has been overwhelmingly positive. There have been accounts of people getting unexpected money, getting out of a traffic ticket, having a day filled with opportunities, and just feeling generally better and more positive."
"Much like a good luck charm or pair of dirty socks that help an athlete to win a game, you have to believe in it" emphasizes Christina. "It's about positive energy. The more positive energy that circulates among people, the more positive results will be produced."
According to Ascension 8 clothing designer Anna Pereira, "Ascension 8's
spiritually blessed T-shirts
are not about religion. The blessings given to each T-shirt are individual blessings based on that customer's desires and spiritual needs. It is all about drawing positive energy from the Universe and harnessing that energy to attract positive results into one's life. These are not religion specific blessings, but rather it is about the law of attraction and using these blessed T-shirts as an instrument and an inspiration to help our customers draw positive energy into their lives."
Ascension 8 is due to officially launch in the Spring of 2009 with T-shirts for men and women. Retail prices range from $50.00 to $70.00. Each color represents a specific energy the shirts attract and radiate. All Ascension 8 shirts and apparel have a general "positive energy" blessing bestowed upon them, but the colors reinforce specific energies. Some examples are: green for prosperity, money and growth; pink for love and attraction; black for protection and grounding. The neck label of each shirt lists what each color represents.
The Ascension 8 T-shirt line can be purchased for retail stores through Hotline Showroom, tel: 212-391-5550.
For media inquiries or for more information about the Ascension 8 line, please contact Christina Santoli email: CSAscension8@aol.com or Anna Pereira email: APAscension8@aol.com
###