Keep Up with the Vanderbilt's? Try Keeping Up with the Ramble.
In anticipation of Asheville's upcoming National Truffle Fest (www.NationalTruffleFest.com), Biltmore Farms breaks new ground by planting a truffle orchard donated by Garland Truffles in the Ramble – the company's luxury residential community (www.RambleBiltmoreForest.com).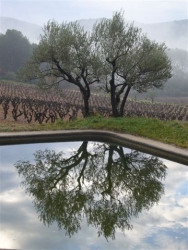 Asheville, NC, February 06, 2009 --(
PR.com
)-- Continuing the Vanderbilt tradition of visionary thinking, the great-grandson of famous pioneer George W. Vanderbilt and CEO of Biltmore FarmsSM, Jack Cecil will continue his ancestor's unique approach to community building, one that creates sustainability by initiating programs far beyond the scope of typical developers and builders.
Hundreds of trees, inoculated with the appropriate fungus to grow truffles, will be planted as part of a new gardening initiative to be introduced in The Ramble® Biltmore Forest. Cecil envisions it as a wonderful way to encourage community residents to come together around one of the country's most popular activities of food and wine.
It doesn't take a huge leap of imagination to realize that the locally cultivated truffles market could be highly coveted. "Even with a conservative yield of 15 to 35 pounds per acre -- a typical yield in France -- truffles are an extremely lucrative crop," says Franklin Garland, owner of Garland Truffles (www.GarlandTruffles.com). And because local products would be fresher and more reliable than those shipped from overseas, local growers would have an advantage. After all, there's a track record in this area for high-end specialty crops, beginning with wine and organic produce. With a profusion of upscale restaurants clustered around Asheville and tourist spots in the region, there's no shortage of potential customers. In fact, small growers may be able to develop direct relationships with chefs or form co-ops to market their fresh product.
"Fresh, locally grown truffles would be beautiful," says Joe Scully, executive chef of The Corner Kitchen (www.thecornerkitchen.com), and truffle aficionado. He emphasizes that he prefers buying directly from local producers. "I buy fruit that way and tomatoes. I know I'm getting the best and freshest products, and the producers deliver them directly to me. Also, they call ahead to tell me they are coming, so I can plan menus and specials around their seasonal produce."
About the National Truffle Fest (www.NationalTruffleFest.com)
The First Annual National Truffle Fest, sponsored by the National Truffle Grower's Association (www.TruffleGrowers.com) will be held in Asheville, North Carolina, March 5th – 8th, 2009. The three-day fest features fresh truffles, fresh talent, and fabulous flavors for true truffle aficionados and those epicurious folks intrigued by the rare mushroom. Detailed information and registration information is available at www.NationalTruffleFest.com. Held amid the tranquility of the Blue Ridge Mountains, Asheville is ready to show us they know all about fine wine and dining.
The Fest officially opens with Thursday evening's "Meet & Greet" where truffle-legend Jose Barbarin, general manager of the largest truffle orchard in the world near Soria, Spain, will welcome us. Dozens of the nation's finest chefs will be partnering with a prestigious winemaker for Thursday's Winemaker Dinners, held in Asheville's premiere restaurants and private homes. One chef will be awarded "Best Truffle Creation" for their creative culinary finesse with pasta and the resplendent Perigord truffle.
This is a rare opportunity for serious truffle growers and curious consumers to have stimulating conversations while indulging all their senses in honor of the coveted truffle. Fine food and wine will be abundant at Saturday's "Chefs' Dinner" – where seven top chefs will prepare a once in a lifetime seven-course meal to the lucky guests. Culinary icons like Walter Royale, Todd Gray, and Martha Stewart are among our VIP attendees/chefs.
Guests can view the art exhibition entitled "The Interpretation of the Truffle" where amateur celebrity and professional artists compete for top prize. This is a rare opportunity for serious truffle lovers and curious consumers alike to have stimulating conversations, learn about truffles, wines and their pairings, while indulging their senses in honor of the coveted truffle.
For more information about this special Winemaker Dinner program and the National Truffle Fest, visit www.NationalTruffleFest.com.
Tickets to the National Truffle Fest start at $100, with all-inclusive guest passes starting at $500 before February 15th and $750 thereafter. To register, visit www.NationalTruffleFest.com.
About The Ramble
Welcome to The Ramble Biltmore Forest. Located in Asheville, NC just a two-hour drive west of Charlotte, and three hours north of Atlanta, this remarkable new residential community lies in the beautiful mountains of Western North Carolina.
It is here in the Blue Ridge Mountains that George W. Vanderbilt chose to locate his remarkable BiltmoreTM Estate. The Ramble is set on nearly 1,000 acres of land originally acquired for the estate. In fact, Vanderbilt walked frequently from Biltmore HouseTM to Ducker Mountain, where from its summit can be viewed Biltmore Estate, the French Broad River and Mount Pisgah.
The Ramble lies within minutes from downtown Asheville's medical and business center, is adjacent to both a private and public K-12 school, a short drive to Biltmore Park® Town Square the regions only mixed-use urban center, and within 15 minutes of the Asheville regional airport. This small, captivating city is regularly chosen as one of the best places in the country to live, by sources as respected yet diverse as Outside Magazine, Rand McNally and AARP Magazine.
Inspired by Frederick Law Olmsted's example, The Ramble Biltmore Forest features an abundance of public gardens, community parks and green open spaces all acting as the outdoor living rooms for its residents. As with Olmsted's plans for New York's Central Park, these are no ordinary parks, each a carbon copy of the next. Instead, residents have been treated to a rich variety appealing to their multitude of interests from walking trails to formal gardens to a truffle orchard.
The Living Well Center brings together the community's residents in an urban Zen style building which offers an indoor community living room complete with a demonstration kitchen, and a yoga studio adjacent to the workout room which overlooks the outdoor swimming pool. This newest Ramble community asset will complement the healthy outdoor activities offered by the array of trails and walkways.
Contacts:
Rebecca Antonelli
919-740-3008
Rebecca@NorthAmericanTruffleFest.com
Betty Garland
919-593-6214
Betty@GarlandTruffles.com
Asheville Contact:
Tom Williamson, The Ramble
828-209-2000
twilliamson@biltmorefarms.com
###
Contact
National Truffle Fest
Rebecca Antonelli
919-740-3008
www.NationalTruffleFest.com
Experts are available for interviews when you need them. Betty Garland: 919 593 6214 or Betty@GarlandTruffles.com

Contact