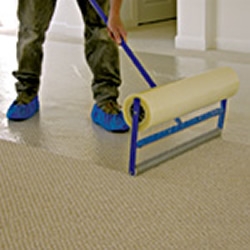 Chicago, IL, February 12, 2009 --(
PR.com
)-- "You spend all this money on decorative hardwood floor and showcase carpet but then you have workers coming, going and working on these surfaces," says Daniel Bowers, ecommerce manager at
www.pro-tect.com
, online home of The Surface Protection Center™. "You need to quickly and securely keep surfaces protected from workers and damage."
Bowers says new choices and time tested favorites give construction site managers more choices than ever to size up surface protection needs and use the right material that will save the most money.
Number one on Pro Tect's recent cost analysis of surface protection products: carpet protection film. "It's the best way to protect carpets on the construction site. That's going to save you the most amount of money on your construction site."
Bowers says, "Good quality carpet protection film is built to last 45 days and is highly resistant to tears and punctures." Pro Tect's carpet protection film is reverse wound, meaning fast and easy installation. Also available Carpet Dispenser, an easy load dispenser that helps apply the carpet protection.
Finished floor surfaces are the next most profitable investment in surface protection. "Hardwood floor protection especially," Bowers says can, "benefit from temporary floor runner and finished floor guard." Bowers also mentions high end tile and marble floors that benefit from breathable floor runner protection.
As useful as rosin paper can be in floor protection on a construction site, Bowers says builders should consider Poly-Craft mask on heavier traffic job sites. "It's waterproof, tear resistant and has a soft craft-paper which is safe to put on hard surfaces," he says. "For my serious customers this floor protection quickly becomes a must have for a fast install, heavy duty surface protection. When you need to make sure your floors are protected."
Carpeted and hardwood stair protection can be a tricky part of any construction site. Bowers says heavier grade, breathable plastic protection like Pro Tect Finished Floor Guard is a good choice for hardwood stair protection. Bowers also mentions: "A lot of my first time customers don't realize how easy it is to install carpet protection film on newly carpeted stairs. Just load it up in the dispenser and slowly work your way down the stairs."
Humble rosin paper still has its uses, Bowers says, but modern materials can ensure high grade finished surfaces are protected during construction. That can save thousands of dollars in clean up and repair costs.
"Surface protection should be considered a cost saving part of the construction plan," Bower says. "And these days a construction manager has more choices than ever to cut cost and pay only for the material they need."
Finally, Bowers notes recent developments in surface protection tools. Pro Tect is introducing new products with focus of cutting the bottom line for contractors and builders. Recently introduced Pro Tect Rock Board and Dust Clips provide better and cheaper tools to save money on surface protection.
###