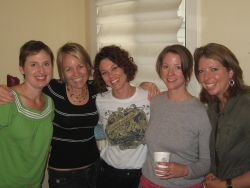 San Francisco, CA, February 17, 2009 --(
PR.com
)-- Frequently a move to a new city, a career switch, an interest in a new activity, a shift in values or a change in our relationship status encourages us to expand our circle of friends. Take, for example, Dannah Lewis, 39, who moved to San Francisco after a divorce a year ago, leaving her best girlfriends in Florida. While there were multiple online resources for her to begin apartment hunting, job searching and online dating, she struggled with how one went about finding and fostering real girlfriends in a new city.
Life coach and founder of GirlfriendCircles.com, Shasta Nelson, had Dannah in mind when she created an online resource to successfully match Bay Area women in their twenties, thirties & forties to potential girlfriends in local cafes close to home.
Regardless of the transition of her coaching clients, Nelson, 32, understands the value of girlfriends. Success for most goals can be directly correlated to the friends in one's life. She provides three steps to help women assess their circle of friends:
1) Honor your Current Friends: Who is in your current circle of friends? How do they uniquely serve you at this time? How are you fostering and maintaining those friends? Do they know how important they are to you?
2) Identify the Holes in your Circle of Friends: Do you have some openings, some categories that are missing current friends? Do you need someone who knows what you're going through right now? Do you have the friends that support you? Are you missing having someone local to hang out with? What friends would help round out your circle?
3) Take Action: What can you do to increase your community? Where is the best place to meet friends in the areas you need? Can you join a support group? Sign-up for a local workshop on a subject of interest? Participate in volunteer work?
Online resources like Meetup.com or GirlfriendCircles.com are providing online tools to build offline friendships. When Dannah joined www.GirlFriendCircles.com, within weeks she was matched at a local café with 4-6 potential girlfriends in her age range, giving her the opportunity to safely and effectively meet other women who were also looking to expand their
circle of friends.
"Most of us are networked out, leaving us craving not just more people, but more real friends," says Nelson. "Building that meaningful community may be the single more important thing we do, impacting everything else in our lives."
###