"The Flip Side of Glory," an Autobiography/Memoir Release
What Price for Glory? A story of Love, Acceptance and hope; fighting for what you believe in and Never Giving Up.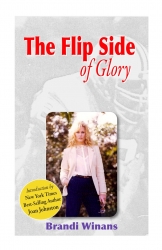 St. Petersburg, FL, February 26, 2009 --(
PR.com
)-- The Flip Side of Glory
Announcing an Autobiography Release
Announcing the release of The Flip Side of Glory. Author Brandi Winans, shares her inspirational life story while being married to former professional football player, Jeff Winans. Jeff's NFL career ended at 30 years of age when he became physically and then emotionally disabled, creating a reliance on prescription drugs. Brandi's Cinderella Story came to an abrupt end without warning. Brandi was thrown into the role of caretaker and sole support of the family, while fighting the NFL to get Jeff's disability pension for the future of her family. Brandi's faith was tested once again after Jeff suffered a horrific gunshot accident and the birth of their only son. She would learn later that during his college and professional career, Jeff had suffered 11+ concussions and she finally understood. The autobiography is of compassion, love, acceptance and hope, fighting for what you believe in with a spirit of survival from faith beyond.
Brandi Winans is currently available for Radio, TV interviews, speaking engagements and autobiography signing venues.
Recently, Brandi aired on Fox 13's, Your Turn, with Kathy Fountain, January 28th, 2009 in a live panel discussion with Dr. Ann McKee, M.D. Associate Professor, Director Brain Bank, Boston University Medical Center, and former NFL Player Isaiah Kacyvenski. In the Interview, Brandi discussed her new book, The Flip Side of Glory and talked about the aftermaths of concussions in the NFL. Prior to completion of her book, she was featured on HBO's Real Sports with Bryant Gumbel.
Brandi Winans, an Inspirational Speaker/Trainer, former radio host of Parents Talk Teens Rap and author of The Wannabe Seminars and The Stepping Stones of Life, (audio CD and Workbook, currently on Amazon and Target.com) and also does Individual or Corporate DiSC Personality Profiler workshops. She is a member of The National Association of Women Writers, Florida Writers Association, World Speakers Bureau, Pinellas County Schools Speakers Bureau, Corporate Board Member of Boys and Girls Club of the Suncoast, Department of Juvenile Justice Steering Committee, District 6, and Day for our Children, Inc. Brandi's "I believe in you attitude" makes her a sought after speaker.
The Flip Side of Glory is now available for purchase at
www.brandiwinans.com
, Amazon and Target.com for $ 14.95.
###
Contact
D.F.O.C., Inc.
Brandi Winans
888-505-7402
www.brandiwinans.com

Contact