Award-Winning, Bestselling Novelist, Susan Wingate, Sets-Off to Changing Hands Bookstore (Tempe, AZ) on Her "Bobby's Diner" Book Tour
Beginning March 26th, 2009, Author of "Bobby's Diner" (the novel), Susan Wingate sets off with stops to several literary spots, including Changing Hands Bookstore, through Arizona on her live book tour.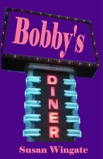 Phoenix, AZ, March 10, 2009 --(
PR.com
)-- When "Bobby's Diner" released in paperback this February 2009, Susan Wingate's publicity team was already busy buzzing the book. It was easy since the books electronic format reached bestseller status in October of 2008.
Jan Roelofs, lecture agent, handling Ms. Wingate's public appearances for the paperback's book tour, has completely filled Ms. Wingate's time this trip to her hometown of Phoenix, Arizona. With stops throughout the state, Wingate will be reading, signing books and giving motivational talks about writing and life from the Phoenix metro area all the way to Sedona and beyond.
""Bobby's Diner" has received incredible reviews and is moving its way up the charts in these early months," says Wingate. "After the book release party it went wild. People were talking about the story, sending emails and calling about how much they enjoyed the read. It was great, just great."
"Bobby's Diner" (in brief) is a story of a woman trying to find herself in a town where nobody wants her. Georgette Carlisle, twenty-five when she saunters into the rustic town of Sunnydale, Arizona, snags husband, Bobby, away from another woman, Vanessa Carlisle. After he dies - fifteen years later when the story begins - he leaves his restaurant called Bobby's Diner to both women. But, that's not the only problem. Bobby's Diner, situated on an attractive highway corridor property, is slated as the next boutique tourist site and sits smack in way of Zach Pinzer's dreams and future with Chariot International Incorporated, a large developer headquartered in Phoenix. Even after Zach arranges to destroy their property and fatally wounds their beloved busboy and gardener, he nearly kills Roberta, Vanessa's daughter. Georgette and Vanessa hold fast to the only thing they have, each other, and they fight. Georgette's story tells a tale of life, love, death, grief, pain, loneliness, and redemption. And, she finds her true family with the most unexpected people.
Wingate will be at Changing Hands Bookstore, one of the premier independent bookstores in the U.S., this coming April 1st… No Foolin'. This event begins at 7 p.m. and will last for about an hour. Susan will read snippets from her latest release and will be available to sign books and chat afterward. Make sure to arrive early though because these events fill-up quickly.
For more information about Ms. Wingate's schedule as she travels through Arizona, check out her website at:
http://www.susanwingate.com
. To read more about "Bobby's Diner" go to
http://www.bobbysdiner.com
.
###
Contact
Susan Wingate, Writer
Jan Roelofs
360 378-8760
www.susanwingate.com
PST 8a - 5p

Contact