As Commercial Investment Declines This West Michigan Golf Course Re-Builds and Expands
When economic times get hard, the reaction of most golf course owners is to hunker down and batten the hatches. But there are some who see hard times as an opportunity. Case in point: Old Channel Trail Golf Course in Montague, Michigan, where the business downturn has sparked a new expansion and rebuilding project.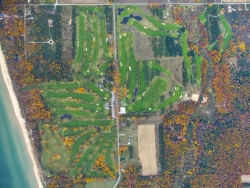 Montague, MI, March 13, 2009 --(
PR.com
)-- "There's an advantage to investing in your business during a downturn," says Meriam Leeke, owner of Old Channel Trail golf course. Her venerable 27 hole course is located on Lake Michigan in the White Lake Area, north of Muskegon and west of Grand Rapids.
"In hard times, you can drive a hard bargain. And you get the best people for the job because they're hungry for the work."
Most of the new construction is being done on that part of her golf course known as The Meadow Nine. Leeke is adding a big new water hazard that doubles as a retaining pond.
She says, "It will improve play and give us better drainage on the fairways."
In addition, Leeke is changing the "lay of the land" with extensive contouring and earth sculpting. She is also building five forward tees. The Montague golf course's tees are being widened and elevated a foot and a half above fairway level.
Asked if she is committed to contrarian investing, the Michigan golf veteran says, "Not at all. We just wanted to make playing The Meadow a better, more enjoyable experience, and this proved to be a good time to do it."
For more information visit:
www.GolfOCT.com
###
Contact
Old Channel Trail Golf Course
Meriam Leeke
(231)-894-5076
golfoct.com

Contact