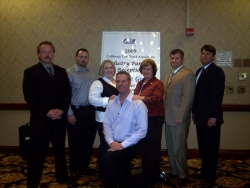 Palm Springs, CA, March 24, 2009 --(
PR.com
)-- The California Tow Truck Association is pleased to announce the following individuals were elected to serve as Officers of the Association during the CTTA Board of Directors meeting held in Sacramento, CA in February 2009.
Elected to serve as the Association President James Kruger, Expertow, Inc., Long Beach, CA, will serve a two-year term starting in 2009. Mr. Kruger has been actively involved within the CTTA organization since 2003 serving both his local chapter and the State Board of Directors. Graduating in 1981 from the University of Southern California with a degree in Business Administration, he enjoyed a successful career in the construction industry serving as Chief Financial Officer before returning to the family emergency road service and towing business. Mr. Kruger is a recognized leader in the public school volunteer arena and is a founding Director of Newcomb Academy Foundation, Inc. In 2007, Mr. Kruger was selected to join Leadership Long Beach as a member of the Class of 2008. Upon graduation, he was asked to join the Board of Directors and currently serves the organization in that capacity.
In addition to Mr. Kruger, the following CTTA members were elected to serve as Officers of the Association for a one-year term in 2009.
· 1st Vice President - Perry Shusta, Arrowhead Towing, Antioch, CA.
· 2nd Vice President - Sherry White, Mission Pass Towing, Fremont, CA.
· 3rd Vice President Sam Johnson, B & J Towing, Rancho Cordova, CA.
· 4th Vice President – Martin Bright, D & S Auto Repair & Towing, Beaumont, CA.
· Secretary - Lisa Isenhower, Bill's Towing & Recovery, Mountain View, CA.
· Treasurer – Casey Horvath, Hamner Towing, Corona, CA.
"I am honored to have been elected to serve as President of the largest towing association in the nation. I look forward to working with my fellow colleagues and Board of Directors over the next two years continuing the commitment of the Association to provide information, education, communication, and advocacy while promoting professionalism and cooperation within the towing industry," states James Kruger, CTTA President.
"I am thrilled to welcome Mr. Kruger and his entire team as Officers for the Association. All of the candidates elected for this term, bring tremendous experience in all facets of the towing industry and will benefit CTTA as they move forward in all of their strategic efforts," states CTTA Immediate Past President, Glenn Neal.
About the California Tow Truck Association
"Founded in 1969, the CTTA was established to provide a means of united efforts in the solution of problems, and to administer such action as might be deemed necessary to benefit the towing industry, to communicate with government agencies on a state and local basis, and to provide a concerted effort toward giving the Towing Industry a better public image and the professional status it deserves."
###