Steve Kaufman Has Been Asked to Create a 17 Feet X 70 Feet Mural at Las Vegas Convention and Visitor Authority (Lvcva) of the History of Las Vegas Casino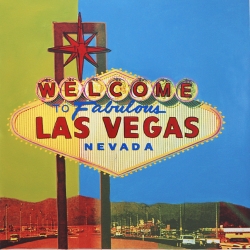 Los Angeles, CA, March 30, 2009 --(
PR.com
)-- "I had a stroke I can't lift a paint brush." Kaufman's office is calling Las Vegas art schools to get kids to help Kaufman with this art history project.
The mural will be seen by 4 million people a year. In 2008 Las Vegas Convention and Visitor Authority has set up a display of Kaufman's paintings, which is seen by 2 million people a year.
Kaufman Art has been seen on TV Shows: E!, Tyra Banks, Playboy's The Girls Next Door, Trump, MTV Cribs, Larry King, HBO Oscar De La Hoya vs. Mayweather and HBO Sopranos.
Web Site
www.stevekaufmanart.com
Kaufman is the former assistant to Andy Warhol; he is a Museum artist, known for painting portraits of Frank Sinatra, Marilyn Monroe, Elvis, the Beatles, Eric Clapton, Jimi Hendrix, BB King, Bruce Springsteen, E!, MTV, VH-1, Justin Timberlake, Cher, Elton John, Bette Midler, Steve Wynn, Bono, U2, Janet Jackson, Al Pacino, boxer Muhammad Ali, Oscar De La Hoya, Picasso, Dali, Van Gogh, Campbell soup, Red Bull, Coca Cola, Liz Taylor, Brad Pitt, President Obama, Playboy's The Girl Next Door, Donald Trump, Michael Jordan, Mickey Mantle, Madonna, Sopranos, Aol, Yahoo, MTV Cribs, Jay Leno, Tmz, Saturday Night Live, Apple computer, Gene Simmon's guitar, Steve Jobs, Bill Gates, John Travolta.
###
Contact
Steve Kaufman Art Studio
Bob Womack
323-661-4251
www.stevekaufmanart.com

Contact