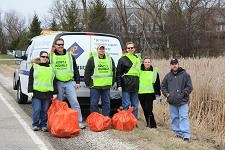 Barrington, IL, April 01, 2009 --(
PR.com
)-- Scott Cummings, founder and President of Excalibur Technology, along with his dedicated employees gave back to their community last weekend by participating in the state Adopt-A-Highway Program. Cummings, along with seven Excalibur employees cleaned up their assigned road - Route 22 between Kelsey and Route 14 on Saturday, March 28.
Participation in the state program is part of an overall "green initiative" started by Cummings in late 2008. Other parts of the program include: purchasing new low power consumption equipment for their data center, switching to Energy Star light bulbs, an in-office recycling program, and total elimination of paper invoices.
Excalibur Technology also helps clients implement clean and effective green technology in their business as part of their service offerings.
"I feel it is important to act in an environmentally conscious way in everything that we do. People are having a negative impact on the environment and with our natural resources dwindling, it is important that we each go out of our way to make a difference and reverse the path we are on," Cummings said.
Excalibur Technology will make a donation to EarthCorps in Q4 of 2009.
Additional general information can be found at the Excalibur Technology website:
www.excaltech.com
###