Power-Up Energy Reveals New Buzz Bite® Chocolate and Mint Chocolate Energy Chew 2ct. Convenience Packs at NAMA Spring Expo, April 16-17, 2009
Power-Up Energy is launching new packaging for Buzz Bites for the snack vending industry to allow snack vendors to sell an energy product at the most popular vending price point of $1.00. Buzz Bites Chocolate and Mint Chocolate Energy Chews are the number 1 energy chew on the market and have the same energy equivalent of a 5 hour energy shot, 25% more caffeine than the popular Red Energy Drink.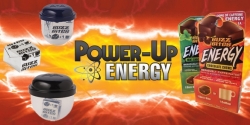 Portland, OR, April 10, 2009 --(
PR.com
)-- Power-Up ENERGY (www.power-upenergy.com) will reveal the new packaging format for Buzz Bite® Chocolate and Mint Chocolate Energy Chews at the 2009 NAMA Spring Expo in Las Vegas, April 16-17th. Buzz Bites, already available in portable 6ct. tins and single serve 20lb. cases for bulk vending are now available in 2ct. convenience packs, highly suitable for full-line vending.
"This is what we've all been waiting for, finally the best-in-category energy product within the full-line vending price point," says Troy Tyler, owner Candyman USA. "Buzz Bites are the perfect solid energy product for vendors of all machine types," says Keith Woodard, President of Power-Up Energy. "Other than Buzz Bite 2ct.'s, there is nothing available for snack vendors for energy at the most popular price point of $1.00," states Woodard. Buzz Bites can also be purchased pre-capsulated in 1.1" or 2" capsules and vended from any bulk vending machine with a 1" or 2" product wheel.
In 2004, Vroom Foods, Inc. (www.vroomfoods.com) created the energy chew category and committed resources to support their bulk and full-line vending partners with superior energy confections and eye-catching packaging. Buzz Bite Energy Chews are available in both chocolate and mint chocolate flavors. Each chew contains 100mg caffeine which is roughly the equivalent of an energy shot, energy drink or one cup of coffee plus the added benefits of five B vitamins, ginseng and taurine.
"As consumers press for portability and affordability and vendors demand a fully-functional energy product with a workable price point, the need for smaller packaging was a given," states Keith Woodard, President, Power-Up Energy.
The time is now for energy chews to become as popular as energy shots. "Consumers are making intelligent choices when it comes to getting their energy and at 1/6th the price of an energy drink or shot, Buzz Bites are a no-brainer. Feeling energized doesn't have to taste bad or drain your wallet," states Jason Kensey, President, Vroom Foods, Inc.
Buzz Bite Energy Chews were the first energy product available to bulk vendors and are the only energy product available for vendors without the requirement of buying into a business opportunity like program.
About Vroom Foods, Inc
Headquartered in Costa Mesa, California, Vroom Foods produces Foosh® Energy Mints and Buzz Bite® Chocolate and Mint Chocolate Energy Chews. These convenient, portable and affordably priced products are a popular source of energy to help people on the go. Consumers can purchase Foosh Energy Mints and Buzz Bite Chocolate and Mint Chocolate Energy Chews nationwide or online. For more information, please visit:
www.vroomfoods.com
About Power-Up Energy
Headquartered in Portland, Oregon, Power-Up Energy is the exclusive U.S. Distributor of Buzz Bites Energy Chews manufactured by Vroom Foods, Inc. for single serve capsulated vending machines. Power-Up Energy does not sell vending machines or distributorships and has maintained a working relationship with Vroom Foods, Inc. since its inception of capsulated energy vending products. For more information, please visit: www.power-upenergy.com
Contact:
Keith Woodard
Power-Up Energy
503-645-9590
www.power-upenergy.com
4888 N.W Bethany Blvd. Bldg. K-5 Suite 315, Portland, OR 97229 (503) 645-9590 Office (503) 296-2710 Fax
###
Contact
Power-Up Energy
Keith Woodard
503-645-9590
www.power-upenergy.com

Contact