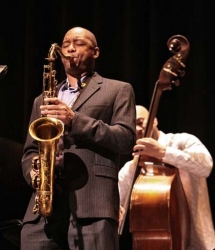 Ridgefield, CT, April 24, 2009 --(
PR.com
)-- Music lovers have been introduced to Saxophonist Branford Marsalis anywhere from the stages of the world's greatest clubs and concert halls to seeing him jam on stage at a Grateful Dead concert. Now, no matter where you saw him- you can see him again at The Ridgefield Playhouse as he and his Quartet (Joey Calderazzo, Eric Revis and Jeff "Tain" Watts)—take the stage on Sunday, May 3 at 8 p.m. Part of the Danbury Audi Jazz Series, this evening of innovative jazz . . . and wine, also features The Santo Stefano Winemaking Club, who will offer free sulfite free wine and professionally made world class hors d'oeuvres to all ticket holders before the show 7 - 8 p.m. in the lobby.
Branford Marsalis has always been a man of many musical hats, from jazz, blues and funk to such classical music projects as his Fall 2008 tour with Marsalis Brasilianos. The three-time Grammy winner continues to expand his skills as an instrumentalist, composer and the head of Marsalis Music. He spent two years touring and recording with Sting, and was the musical director of The Tonight Show with Jay Leno in the 1990s. And he has collaborated with the Grateful Dead as well as Bruce Hornsby, who has also appeared at The Playhouse.
The Santo Stefano Winemaking club will be in the lobby one hour prior to showtime to introduce their special brand of wine. Located in the Hudson Valley this special vineyard allows you to come and make your own vintage of wine while enjoying world class fare. All wine and food served is included in the price of the ticket. Wine, food and Jazz...a great way to celebrate spring.
For tickets ($80) and further information about The Ridgefield Playhouse, call the box office at 203-438-5795; tickets may be also purchased online at
www.ridgefieldplayhouse.org
. The Playhouse is located at 80 East Ridge, parallel to Main Street.
###