Complete Biometric Solution to Prevent Buddy-Punching
Acroprint introduces the timeQplus Biometric time and attendance system. Enjoy unusual flexibility in configuring this computer time clock system, thanks to three available communications options for connecting the terminal to your PC or network. The system accepts additional TQ100 terminals, and software upgrades allow you to accommodate up to 250 employees. This affordable yet powerful system will grow as your business grows.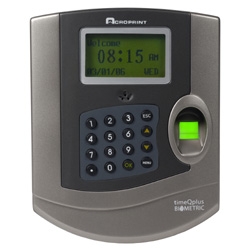 Raleigh, NC, August 01, 2006 --(
PR.com
)-- Tired of employees coming in late but their time record states they arrived on time? Acroprint introduces the latest in fingerprint biometrics and flexible communications, the timeQplus Biometric™. Employees must be present to punch with fingerprint biometrics.
This complete time and attendance system with biometric terminal offers state of the art fingerprint biometrics that requires the employee to be present to punch in/out. Enroll your employee's unique fingerprint in the system. Once the fingerprint is read and verified, the time is recorded and the data is retained in the terminal, providing an indisputable time record. With fingerprint only entry, no PIN numbers are required but keypad entry does offer an alternative option. The system has a large storage capacity, holding up to 30,000 transactions and having a fingerprint capacity of 1,000 fingerprint templates.
The time and attendance software saves you time and money calculating payroll. Janet Scoggins of Poly-Pak & Ship, Inc. based in Illinois, a manufacturer that prepares magazines for worldwide shipments, states that the timeQplus Biometric™ "will shorten my payroll preparation time by more than half." With close to 100 employees and 2-3 shifts, calculating the company's payroll traditionally takes up to five hours. Also, with the employee messaging feature, employees can easily see how many hours they have worked in a pay period each time they punch in/out. It takes the guesswork out of the total hours worked not just for management but for employees.
The timeQplus Biometric™ will generate reports and export the data automatically into popular payroll processing software like QuickBooks®, Peachtree® and ADP®. The software tracks employee hours and accommodates holiday, overtime, shift and pay-period policies. Supervisors simply approve time cards at the PC and print a wide range of management reports including Time Card, Hours Summary, and Who's In reports. The software comes packed with additional features like In/Out Board visual tracking. Scoggins says, "The In/Out Report is helpful because it tells us who is here for each shift and who is in the building in case of disaster."
As your business grows, the timeQplus Biometric™ system can be expanded with additional terminals and software upgrades. With the base system, three flexible communications options are available including a serial connection (RS232), Network configuration (RS485) and Ethernet, accommodating various communication distances. Businesses can add terminals at different building entrances/exits or multiple terminals in one location to monitor traffic flow.
The timeQplus Biometric™ complete time and attendance system is packaged with everything you need to get started including biometric terminal, software, RS232 and Ethernet cable, manuals and Quickstart Guide. The base system is designed for 125 employee capacity with software upgrades available for up to 250 employees. Please contact Acroprint at 1-800-334-7190 to learn how to prevent buddy punching with fingerprint biometrics.
Acroprint Time Recorder Co.
is a leading global manufacturer and distributor of time and attendance products with more than 1,000 dealers/distributors across the and products that are exported to 70 foreign countries. Acroprint can help your business solve recordkeeping headaches, decrease paperwork, and reduce manual recording. We have been helping millions of businesses for over 37 years.
###
Contact
Acroprint Time Recorder Company
Catherine Winn
1-800-334-7190
http://www.acroprint.com/
5640 Departure Drive
Raleigh, NC 27616

Contact