Sheli Sanders: A New Face at the Scale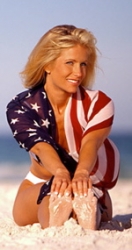 Boca Grande, FL, May 04, 2009 --(
PR.com
)-- For the first time since 2006 at a PTTS event Kristen Berset will not be at the Ale House weigh boat greeting anglers. After three seasons of dedicated service as the Miller High Life PTTS Shoreline Reporter/Co Host, Kristen has accepted a position as a sports anchorwoman and reporter at WBBF, FOX 45, in Baltimore, MD.
"We are all happy and excited for Kristen and wish her continued success as she climbs the ladder to reach her career and life goals." Said PTTS Host and GM Joe Mercurio.
"I'm going to miss all of the teams, and the fans on the beach. I grew up fishing in Florida and loved working for the PTTS in the outdoor television world." Remarked Berset, "The one thing I won't miss is waking up a 4:30 AM to get ready to film."
Replacing Kristen at the Ale House weighboat in 2009 will be television personality and renowned inshore angler, Sheli Sanders. Sheli has held roles on the big screen, on stage, and has appeared numerous times on programs broadcast on the Discovery Channel, CW, ABC, and the Home Shopping Network. A native of the Lonestar State, Sheli developed a passion for angling at an early age.
"I was born a natural performer with a healthy dose of competitiveness." Says Sanders. "Growing up I never backed away from a challenge and loved to fish."
Sanders father introduced her to Bass fishing in Texas. Shortly after college Sheli moved to Florida where she continued her angling pursuits. In 2007, Sheli was crowned tournament champion at the Mercury Grand Slam in Tampa, one of the most prestigious events on the West Coast of Florida. Sheli was the lone female angler of the event and bested fishing legends Stu Apte and Roland Martin, as well as the top inshore anglers from around Tampa. Her victory earned her a spot at the IGFA Inshore World Championship.
"I can't wait to meet all of the teams, and I'm very excited about joining the PTTS family", said Sanders.
"When Kristen told me she was leaving, I knew we would never be able to replace her. I can't think of a better, more qualified person to join our crew than Sheli. She is a great personality and her fishing knowledge far exceeded most veteran anglers I know."
###
Contact
Professional Tarpon Tournament Series
Joe Mercurio
941.255.1555
tarponanglersclub.com

Contact