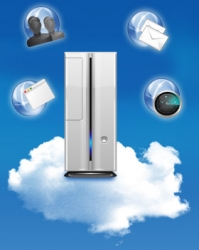 San Francisco, CA, May 19, 2009 --(
PR.com
)-- International Cloud Computing Conference, Prague – 18/05/2009.
eazybusiness (www.eazybusiness.com) has today launched at the International Cloud Computing Conference in Prague. The eazybusiness suite of applications, which include email, document management, time and attendance, web meeting, invoicing, inventory management and sales force management, are accessed securely by company employees over the internet.
"eazybusiness allows companies to save significant costs which is becoming all the more pertinent in the current recessionary climate. Why spend money supporting outdated in house applications or buying new servers? With eazybusiness you need never buy another server, all the applications are hosted in the cloud and are available from anywhere over the internet", said Pat Bolger, CEO.
What is truly unique about the eazybusiness offering is the way in which the applications are presented to the user. When a user signs up to eazybusiness their applications become available immediately without any need for the user to worry about installation, hosting, backups, security etc. All the applications are accessed over the web through a 'virtual desktop' or webtop that is automatically created for each user. The webtop is similar to the 'windows' look and feel and is therefore instantly familiar to the user. Companies that sign up to eazybusiness are also given a free company website, the content of which can be updated and changed over the web at any time.
The eazybusiness offering is free for the first 90 days and costs from as little as €3 per user per months thereafter. In addition eazybusiness offer their eazyconnect package for free for companies with less than 10 users. The eazyconnect package includes corporate email, shared calendar, shared tasks, document management, online chat and online meeting applications.
You can set up an account on the eazybusiness website at www.eazybusiness.com.
###