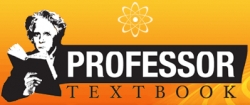 Indianapolis, IN, May 19, 2009 --(
PR.com
)-- Now professors and Instructors can publish their own textbook with the help of Professor Textbook.
Professors and instructors looking for a way to optimize textbook content and design finally have a solution. Professor Textbook, created by the guys who brought you Dog Ear Publishing, offers textbook publishing and customization services to professors and instructors everywhere.
Professor Textbook adheres to this philosophy: students realize the greatest learning benefits from textbook content that is logically organized and personalized for their courses. Customized textbooks also give professors and instructors confidence that they are providing students with the most relevant and useful information possible.
The benefits of custom textbook publishing, referred to as "The Four Pillars" by co-owner Miles Nelson, include the following: (1) the professor and instructor controls the quality of material the students receive; (2) the professor owns the material; (3) revisions to the material can be made at any time; (4) the profit from sales is significant.
With a "live chat" feature on their website, Professor Textbook represents the best in author relations. Professors and instructors can receive answers to questions in real time, interacting with experienced publishing veterans.
Professor Textbook partners with professors to publish their textbooks, their way. Customized textbook publishing allows professors to make a positive change in the classroom by improving textbook materials—the most fundamental source of student guidance. After all, it's your course; shouldn't you be using your textbook?
About Professor Textbook:
With over 20 years of combined experience in the publishing industry, co-owners Miles Nelson, Ray Robinson, and Alan Harris created Professor Textbook to give professors and instructors control over their textbooks. Since 2005, Miles, Ray, and Alan have been perfecting the craft of custom publishing. Along with Mark Jackson, director of author relations, they strive for 100% author satisfaction.
Contact:
Mark Jackson, director of customer relations
Professor Textbook
4010 West 86th Street, Suite H
Indianapolis, IN 46268
317-222-7131
877-222-7131
www.professortextbook.com
###