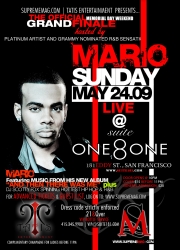 San Francisco, CA, May 20, 2009 --(
PR.com
)-- Supreme Magazine the newest online publication focused on hip-hop culture, education, and entertainment in conjunction with Tatis Entertainment is proud to announce The Official Memorial Weekend Grand Finale hosted by RnB Sensation Mario and Nessa from San Francisco's on WILD 94.9 on Sunday, May 24th, 2009 at Suite 181 in Downtown San Francisco.
The Platinum, Grammy Nominated Artist and Actor Mario will be live on stage at Suite 181 performing tracks from his New Album "And then there was me" as well some of his other tracks including "How Do I Breathe", "Crying out for me", and "Music for love". This is a concert not to be missed this Memorial Day weekend come get up close and personal with Mario at Suite 181 located at 181 Eddy Street in Downtown San Francisco. Advance Tickets are only $15.00 and available at www.suprememag.com VIP Tables and Packages are also available. This is a 21+ event, doors open at 10pm so get there early. Dress code will be strictly enforced at the venue. For more information log on to www.suprememag.com.
About Mario:
When 20 year-old Grammy-nominated singer, songwriter, actor Mario realized that his talents came to him naturally, his growth and acceptance of these gifts aptly produced his third album, Go. "I feel like this is what I'm supposed to be doing. I'm supposed to be at this place in every aspect of my life, from personal to business. This is where I am, this is where I chose to be."
He is best known for his hit singles "Just a Friend 2002" and "Let Me Love You", which won him two Billboard awards, as well as for appearing in the films Step Up and Freedom Writers. His latest album, Go! was released on December 11, 2007 and a his new album And Then There Was Me is set to be released in June 2009.
About Tatis Entertainment:
The Tatis Entertainment Group is a California based company with its core businesses focused on Music Production, Live Concert performances and Event planning. We also produce upcoming artists via our joint ventures with Afonico Music, Maleco Music and Supreme Entertainment.
About Supreme Magazine
Supreme Magazine Group, LLC, is a Los Angeles, California-based start-up that focuses on urban and hip-hop culture from all angles, including educational, cultural, and financial. SupremeMag.com has already drawn a huge fan base since its Beta launch in 2008. Serving as a portal, the site goes beyond "underground" rap and beyond "gossip" to find the universal truth for people who don't consider hip hop a music genre, but a lifestyle. SupremeMag.com talks to the people through live chats with artists, interactive polls, sponsored parties, promotional giveaways, new music & classic music.
For additional information you may contact ARL Marketing & Public Relations at 954-376-8388 and via email at: Andrew@arlmarketing.com for media coverage, interviews, photos and sponsorship opportunities.
###