Kennedy Health Committee Draft Bill, Obama Proposals Resemble Ideas in Book by Dr. David Robinson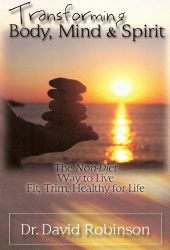 New Bedford, MA, June 08, 2009 --(
PR.com
)-- Dr. David Robinson's new book, Transforming Body, Mind and Spirit – The NonDiet Way to Live Fit, Trim, Healthy for Life (Strategic) outlines future changes and reforms in health care and insurance that are now being resembled in a draft bill submitted by Sen. Edward M. Kennedy's health committee as reported by the Associated Press, Saturday, 6 June 2009. Over a decade ago, Robinson was talking to groups about mandatory health insurance and at that time proposed it would become national policy. This is now one of President Obama's health insurance reform proposals. It appears the ideas in his book, what Robinson calls the "New Order" of health care and insurance, may very well become national policy to some extent.
In addition, Robinson's book offers a self evaluation of lifestyle, ways to save money on health care and insurance coverage and simplifies weight loss into an easy plan people can gradually incorporate into their daily lives to achieve a lean body and better health.
The combination of the book's visionary health reform ideas being proposed for policy and the simple, gradual approach to a responsible, healthy lifestyle with easy to implement methods as a means for permanent weight loss, all in a book that is short, concise and an easy read, makes Robinson a great guest for both radio and television, as he presents views rarely heard. And unlike the majority of books written by celebrities and politicians, Robinson has written the book himself; no ghost writers were involved.
This has captured the attention of talk radio. Within a two week period, Robinson has had four radio show interviews which have included Strategic Talk Radio on Blog Talk Radio with host Kelly Wallace, Book Blurb on Blog Talk Radio with hosts Sally Shields and Dr. Kent, Citizens Speak on Web Talk Radio with host Don Yelton and Passionate Internet Voice Radiowith host Lillian Cauldwell.
An overview of Robinson's book can be found on YouTube and at
www.StrategicBookPublishing.com/TransformingBodyMindandSpirit.html
.
###
Contact
Dr. David Robinson
508-996-0259
www.DrDavidRobinson4Health.com

Contact