Little Dogs Pack a Big Punch at Teacup Dog Agility Trials
Pup 'N Iron Canine Fitness & Learning Center hosts the Washington, DC area's first ever Teacup Dog Agility Trials this weekend, June 13 & 14, 2009 in Fredericksburg, VA. Small dogs, yes, some of them even considered "girly," show they, too, are strong, athletic and built for speed. But they do it on smaller equipment appropriately sized so they can excel. It's fast, fun, exciting, and yes, too cute for words.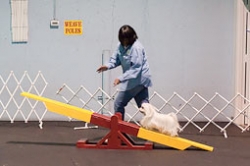 Fredericksburg, VA, June 09, 2009 --(
PR.com
)-- The fast-paced sport of dog agility has been around since the mid 1980s and has continually grown into one of the most popular dog sports in the world. Today there are many different organizations that hold competitions, and in most, all breeds of dogs, purebred and mixed, can enter. However, if you catch a high-profile agility competition, especially one that is televised and shows only the top dogs, what you're most likely to see are herding breeds like Border Collies, Australian Shepherds and Cattle Dogs as the top competitors.
Not this time! Now small dogs will take center stage and be given the chance to show the world that big things truly do come in small packages. Breeds like Chihuahuas, Maltese, Shih Tzus and Yorkies, some even small enough to hide in a purse will be the canine athletes showing amazing skills and mastering the agility courses at this Teacup Dog Agility Association trial. Open to dogs under 17" tall, TDAA trials feature scaled down versions of the standard agility equipment that are much safer and more realistic to manage for the smaller dogs. This gives them a much more level playing field to compete in.
"This ain't your Border Collie's agility trial!" says Laurie Williams, owner of Pup 'N Iron and host of the event. "It's not a matter of whether or not small dogs can manage the full size agility equipment. Of course they can, they're amazing," she continues. Williams competed on last summer's CBS reality show Greatest American Dog with her Maltese dog, Andrew. Weighing in at only 8 lbs, Andrew competed with 11 other dogs in the competition, some 3 and 4 times his size. Since the show, Williams has been a strong advocate for small dogs getting the respect they deserve. "Should a 5 lb, 6 inch tall dog have to climb the same size A-Frame as a German Shepherd in order to qualify? How ridiculous is that? It just really comes down to fairness, and most importantly, safety. TDAA offers that," says Williams.
Come out and watch these mighty mites and diminutive dynamos. The trials will start at 9:00am each day. For more information on the Teacup Dog Agility Association, visit http://www.k9tdaa.com.
###
Contact
Pup 'N Iron LLC
Laurie Williams
540-659-7614
www.pupniron.com

Contact