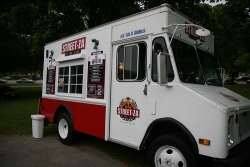 Milwaukee, WI, June 12, 2009 --(
PR.com
)-- People love pizza. People love twitter and facebook. People love feeling special and listened to.
Streetza, a late-night pizza truck selling pizza by the slice has combined all three successfully in Milwaukee, WI. Before the truck was even ready to hit the streets, hundreds of local Facebook fans were voting on which logo they liked best, pizza toppings to be included on the menu and even helped determine pricing and portion size.
The first night that Streetza rolled out of its' commercial kitchen home-base, hundreds of fans were gathered for a launch party, featuring 720 slices of free pizza. Since, almost 1000 local people follow Streetza on twitter. This equates to almost 37% of Milwaukee's active tweeting audience according to statistics from twitterholic.com
Just what does a mobile pizza truck have to say that people find worth listening to? "Since we are always moving, people want to know where we are going to be," According to Steve Mai, a partner in Streetza. "But the wonderful thing about twitter is that we have active conversations with our customers. They suggest ideas for toppings and names, and in some cases we actually name our pizzas after our customers."
The red-and-white Streetza truck uses locally grown or organic seasonal toppings for its specials and fresh dough which is pulled rather than tossed, which creates a very unique pizza. Mai had over 10 years of experience working for successful Milwaukee pizzerias prior to starting Streetza with Scott Baitinger, a creative director who also spent 6 years as a chef. Streetza is the first twittering food truck in Milwaukee, but they have quite a strong following elsewhere. In Kogi Korean BBQ taco truck in Los Angeles, has 14,000 twitter followers and any given night the wait for a Kogi taco can reach well over an hour.
In the future, the web 3.0 movement will bring more interaction with restaurants and other businesses. People like doing business with people, and this is a great way for business to interact with their customers, potential customers and vice-versa. The social media strategy for Streetza was developed by Mequon-based Mader Communications.
###