New Red Riding Hood Movie Trailer Now Online
Trailer for controversial new Red Riding Hood movie hits the web. This fairy tale is not for kids.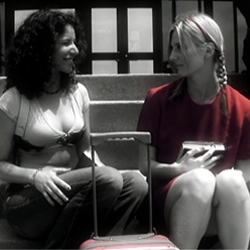 Silver Spring, MD, June 16, 2009 --(
PR.com
)-- The new trailer for director Harry Sparks' new fantasy film Rotkäppchen: The Blood of Red Riding Hood has been released and is now on
YouTube
.
The story follows a German teenager named Rose that comes to live with her grandmother in America. Although she is happy to see her grandmother, Rose hates her new life: she misses her friends back in Germany and she is teased and ridiculed by the other students at school. Rose can only find comfort in her tattered book of fairy tales until she meets and develops a crush on Nick, the most popular guy at school, and is befriended by Summer, a beautiful sexy coed. But things become complicated as Rose is tormented by Nick's girlfriend Bridgette and the once quiet town of Hinsdale finds itself rattled by a series of gruesome, mysterious murders.
Produced by Maryland based Sparks Entertainment, Rotkäppchen: The Blood of Red Riding Hood is a bold, sexy, new twist on an old fairy tale. The film stars German actress Stefanie Geils as Rose, Sativa Verte as Summer, Phil Gibson as Nick, Nicole Leigh Vuono as Bridgette, Chris O'Brocki as David, and Betty Biehler as Rose's grandmother.
The Sparks Entertainment production encountered some controversy during shooting last summer due to its' erotic content.
"This is a fairy tale for grown ups," says writer/director Harry Sparks. "What a lot of people may not realize is that the Red Riding Hood story has always been about sexual awakening. It's about this journey of a girl becoming a woman. And I wanted to explore that aspect and not water it down."
The fairy tale sequences were photographed in Germany, Italy, Austria and Pennsylvania in vivid color. Others scenes are in black and white with selected elements in red, recalling the technique used in films such as Sin City. These sequences were filmed in Maryland and Virginia.
To check out the film's trailer, posters and behind the scenes photos, visit the official movie website:
http://www.redridinghoodmovie.net
.
The film will premiere September 12th at Maryland's historical AFI Silver Theatre and Cultural Center.
###
Contact
Sparks Entertainment LLC
Harry Sparks
240-723-6830
www.sparks-entertainment.com

Contact
Multimedia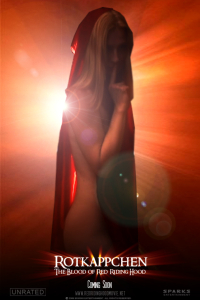 The official teaser poster for the film Rotkäppchen: The Blood of Red Riding Hood.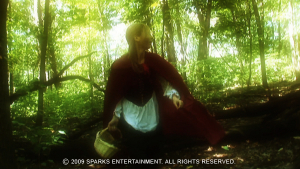 A still from Rotkäppchen: The Blood of Red Riding Hood. In this photo, Red Riding Hood (Stefanie Geils) runs from the wolf.