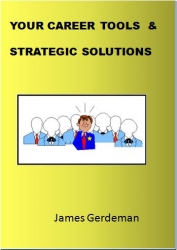 Coral Springs, FL, June 16, 2009 --(
PR.com
)-- James Gerdeman mustered his business experience and keen ability to observe, to show individuals how to be effective. It is time that individuals view themselves as the value and demonstrate this savvy every day. Fundamentals of business are applied to the tools of today. Everything from Cell Phone, Outsourcing, and Office in the Home to fundamentals of communication are detailed from the view of the individual. The publication of Your Career Tools & Strategic Solutions is in conjunction with Lulu, the world's fastest-growing provider of print-on-demand books.
Your Career Tools & Strategic Solutions is an autobiographical account of real life business situations in a society that is changing. Managers get a grip with fewer resources. Individuals chart their future in new environment. Learn about outsourcing for opportunities and the disciplines of office in the home. Read Your Career Tools & Strategic Solutions.
James Gerdeman wrote Your Career Tools & Strategic Solutions as a project to show the need for individuals to hone the basics in business. Jim has been in management with ACS, IBM and Telematics. He ran his own business for over 10 years. He is a successful systems engineer and staff associates. He has had an office in the home for over 16 years. These experiences are the basis to build this book. The focus is on those things that many people overlook. Check it out.
Jim came to Lulu because he found there was a well thought out online support for what he wanted to accomplish. Your Career Tools & Strategic Solutions is available for purchase at www.lulu.com, in a marketplace filled with other unique surprises.
Link to Publication*:
www.JDGerdeman.com
About Author
James Gerdeman earned an Industrial Engineering degree from the University of Dayton. His book Jimmy, about boys growing up in the 50's, has entertained many. Smoke Signals You Too Can Quit shows his diversity. His first book, Radio Frequency Identification Application 2000, was published by Research Triangle Associates. Jim has always pushed technology for society. Recently Jim has built Photo Radar and Enforcement systems for municipalities. He is expert in RFID in the electronic toll systems. More information at www.JDGerdeman.com.
About Lulu
Founded in 2002, Lulu is the world's fastest-growing print-on-demand marketplace for digital do-it-yourselfers. Please see www.lulu.com for more information.
###
Media Contact: James Gerdeman, jdgerdeman@aol.com, Cell Phone 786-256-8902.