Lauren Manufacturing Introduces a New Line of Weather Stripping Products for Contractors
Provides Eligibility for Weatherization Assistance Program.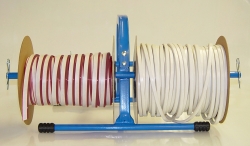 New Philadelphia, OH, June 17, 2009 --(
PR.com
)-- Lauren Manufacturing has introduced a new line of convenience packaged weather stripping products being sold direct to Energy Service Provider Contractors. Pre-packed on 200 foot reels, these products qualify for funding under the Obama administrations' Weatherization Assistance Program and are installed at the jobsite directly by contractors. Reels are designed to fit various caddy styles used by contractors which accommodate multiple product selections per caddy.
"Packaging our weather stripping products on continuous length reels provide important job site benefits to the contractor that results in time and labor savings," said Sheryl Ashleman, Building and Construction Market Manager for Lauren Manufacturing. "Some of those benefits include virtually eliminating repetitive trips back and forth to the job site for replenishment of supplies, uninterrupted installation, easy transport of multiple styles, shapes and colors of product on one caddy system and the ability to make on-the-spot installation changes.
Lauren's weather stripping products are constructed from EPDM sponge materials with pressure sensitive adhesive (PSA) attachment systems for easy installation and are available in black, brown and white. Contractors are able to choose from several different profiles including "P", "D" and "Ribbed" shapes for various applications. All products provide excellent weathering and sealing properties and can be used to weatherize windows, entry doors, garage doors, skylights, basement doors and enclosures.
"We are constantly listening to the needs of our customers and developing new, innovative products and services in response," concluded Ashleman.
For more information about Lauren Manufacturing and its products including the new Contractor Reel assortments, please contact the company at 330.308.7248. To learn more about Lauren Manufacturing, visit the company's website at
www.lauren.com
.
About Lauren Manufacturing: Lauren Manufacturing, a Lauren International Inc. company, is a full-service supplier of standard and custom extruded and molded sealing solutions. Lauren strives to deliver value to its customers through superior products by combining operational excellence and exceptional customer service with unmatched speed-to-market. Contact them at: Ph: 800-683-0676, Fax 330-339-1515 or Web site: www.lauren.com. Lauren Manufacturing is located at 2228 Reiser Avenue SE, New Philadelphia, Ohio 44663. Learn more about Lauren International, Inc. by visiting
www.laureninternational.com
###
Contact
Lauren Manufacturing
Cynthia Miller
330.339.3373
www.lauren.com

Contact