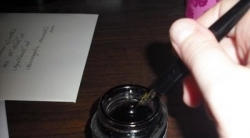 Montville, NJ, June 23, 2009 --(
PR.com
)-- When Melissa Marolla Brown was planning her own wedding, she was interested in finding ways to make it unique and memorable, yet cost-effective. Brown decided to utilize her previous specialized art training to address her invitation envelopes personally. The handwriting style she crafted made a strong impression on her guests, and soon she was deluged with inquiries and orders from friends, relatives and local NJ residents, leading her to launch "Calligraphia by Melissa", based in Morris County. A few years later, her business has been nominated for a prestigious Wedding Channel award.
Since this business launch four years ago, Calligraphia by Melissa has addressed individualized, elegant invitations and place cards for weddings and other events, and created custom gifts using only the finest bottled inks. "Each and every set of envelopes or place cards I write is unique because it is penned specifically for the customer who orders it," Brown said. "Everything is done by hand, so it truly is original." Brown produces innovative features with a variety of tools and materials, including specially-matched ink colors. Calligraphia by Melissa is one of only a few well-respected handwritten calligraphy companies that offers wedding planners and brides the option of complete invitation assembly, too.
Janna McMahon, a wedding planner in New York City, ordered calligraphy services on inner and outer envelopes for a client's wedding last year. She was especially pleased with Brown's customer service, timeliness and quality. "Melissa creates a work of art each time she picks up her pen! She adds beauty and grace to invitations, announcements and stationery. Her personal attention and gorgeous execution make her a master in her own right. I am proud to refer Calligraphia by Melissa to all of my clients."
Although based in New Jersey, Calligraphia by Melissa services national and international clients. Oretha ordered calligraphy for her marriage announcements from her home in the Netherlands, and was thrilled with the outcome. "Your work is absolutely stunning! Many friends and family in both the US and Europe called about the calligraphy. Thank you so much for a job well done!"
Dana beamed when she saw the elegant but legible writing on her invitation envelopes. "Melissa was awesome...very professional, friendly and quick!" she said. "I'm more excited about the envelopes than the invite itself!"
Brown is able to accommodate almost any budget through her menu of services available online, and will serve your needs in a timely manner either in person or by mail. In addition, many useful and often overlooked etiquette tips are available on her blog at www.calligraphiabymelissa.com. Some clients have been helped so much by Brown's blog that they have nominated Calligraphia by Melissa for a prestigious award offered by the Wedding Channel. Votes for the wedding industry's Best Bridal Blog Award continue to be taken at www.weddingchannel.com, or via the nomination button on Brown's own blog page.
For more information, visit www.calligraphiabymelissa.com or e-mail melissa@calligraphiabymelissa.com
973.808.9602
###