RentJungle.com Revolutionizes Online Apartment Hunting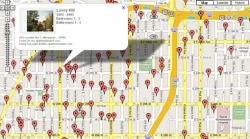 Pittsburgh, PA, July 13, 2009 --(
PR.com
)-- RentJungle.com, the Internet's newest apartment search site, has now launched and is available online. The newly launched RentJungle.com already has over 500,000 listings. RentJungle.com has developed a suite of interactive features, for example apartment hunters can browse every available listing on a user-friendly map. Apartment hunters instantly know where each vacancy is located and what's nearby: parks, shopping, etc.
RentJungle.com works much like a search engine in that it scours the Internet and pulls together apartment listings from a variety of sites. Unlike search engines, RentJungle.com focuses solely on apartment listings. Results are displayed on either a simple, interactive map or as a listing with links to street views. Visitors can get an idea of where they could potentially move without having to physically visit the location.
"We help users avoid that scary 'What am I getting?' feeling by giving them live visuals on an easy to use map," says founder Rick Ferris.
Resources about locating, leasing, moving and decorating a new apartment can also be found on RentJungle.com. The site features both the most complete and user-friendly listing of vacancies on the web, as well as articles on everything from down payments to what to consider when signing a lease.
"Bouncing around from site to site wastes a lot of time," says Ferris. "RentJungle.com lets users focus their energy on searching for actual apartments, not for sites listing apartments—which is all you get when you search with search engines."
RentJungle.com launched June 1, 2009 and within four weeks had experienced nearly 1000 unique daily visitors though word-of-mouth advertising only. Behind its success is Rick Ferris, a real estate broker with over 30 years experience in residential and commercial realty. He's sold or leased over $400 million in commercial property and has earned the CoStar Power Broker Award every year since 2002. He founded RentJungle.com to fill a real void in the online real estate market by offering a simple, easy-to-use directory and one-stop-shop destination for leasers.
For media inquiries and interviews, please contact press@RentJungle.com.
Visit the
Rent Jungle Apartments Search
Website.
###
Contact
Rent Jungle
Jon Pastor
877-300-2505
www.rentjungle.com

Contact