NewHomeBuyerDeals.com Finds Niche in New Home Marketing
NewHomeBuyerDeals.com is a brand new website where homebuyers and Real Estate Professionals can find information about Florida new home builders. The website displays Florida new home builder ads in the same fashion as your local paper, but the new home ads are always available, and each ad clicks-through to the home builders' website. NewHomeBuyerDeals.com has received a great reaction from homebuyers, real estate professionals, and home builders.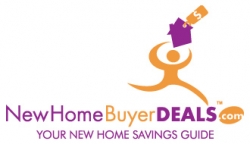 Tampa, FL, July 28, 2009 --(
PR.com
)-- After taking notice to how real estate is evolving in Tampa, Florida native Monica Roese started an informative new home web site that can be used by homebuyers and Realtors during the new home research process.
As a Licensed Real Estate Broker with 15 years of experience in New Home sales, Roese started NewHomeBuyerDeals.com in June and has since watched the company grow as the site now features several Florida home builder ads.
NewHomebuyerdeals.Com
features weekly home builder ads that click-through to the home builder's web site. By linking to popular Social Media sites, we are generating interest on Tampa Bay's new home market and the buyer incentives available.
"The basic idea of NewHomeBuyerDeals.com is to make the Tampa, Florida New Homes Section of the local newspaper always available online," Roese said. "We realized that the home buying process is changing and we wanted our company to accommodate that change." Buyers today are utilizing the internet more than ever in search of the best deal on their new home purchase.
According to a survey conducted by the National Association of Realtors, using the internet during the home buying process is on the rise. In 2007, 84 percent of people used the internet while searching for a home.
Realtor® Magazine named Florida as the state hardest hit with Foreclosures. With a decreasing number of new home inventory available in the Tampa Bay Market, Builder's are offering phenomenal Buyer incentives in order to compete.
Lorraine Daniels, a real estate agent with Prudential Tropical Real Estate, thinks using the internet as a means of selling or purchasing a home is a useful alternative to browsing the newspaper or out-of-date home directories.
"As a Realtor, I need to have the most up to date information in order to stay competitive," Daniels said. "I am excited to see this website grow and am happy to see that the Florida new home builders are starting to realize its potential."
Perhaps the people most excited about companies like NewHomeBuyerDeals.com are potential buyers in the Tampa Bay area.
Ed Samper, a Tampa resident who has been researching information about condo living in Tampa, found online services such as NewHomeBuyerDeals.com to be very valuable in his hunt for a new home.
"All of the information I needed was in one location," Samper said. "The web site was very user-friendly."
Roese hopes that with a combination of residents looking to purchase homes in the Tampa Bay area and the popularity of the internet increasing every day with the power of Social Media sites, her company will prove to be a resourceful tool in the home buying and selling process.
"It is only a matter of time before all businesses are operated via internet," Roese said. "We just hope that our business will revolutionize the way people buy and sell their homes."
###
To find out more information visit NewHomeBuyerDeals.Com or contact Monica Roese at Monica@NewHomeBuyerDeals.com.
Contact
NewHomeBuyerDeals.com
Monica Roese
866-962-6522
www.NewHomeBuyerDeals.com

Contact