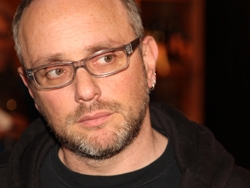 Portland, OR, July 30, 2009 --(
PR.com
)-- Today, ID Branding, a full-service brand culture agency, announced that it has welcomed Joshua Berger as its new creative director. Berger is founder and creative director of Plazm, listed by ID Magazine as one of the world's 40 most influential design firms. Bringing a wealth of design and art direction expertise to ID Branding, Josh adds to an expanding team of highly-skilled creatives that have joined the agency in the past year.
"Josh is an amazing talent," said Doug Lowell, Partner and Executive Creative Director at ID Branding. "His deep dedication to branding as well as design makes him a perfect addition to a team that shapes brand cultures. He has earned a reputation worldwide as an important designer and art director because of his innovation and commitment to his art. We're proud he chose to join us."
Berger's career spans two decades working with clients such as Nike, Jantzen Swimwear, Laika, Burgerville, Portland Center Stage, ESPN and Lucasfilm. Numerous publications and award shows feature work produced by Plazm, including the 100 Show, Communication Arts, Graphis, IDEA, the AIGA national show and the Art Director's Club. Under Berger's guidance, Plazm magazine and its online presence will continue as a separate entity.
"The agency's commitment to balancing strategy with strong creative solutions for clients drew me to ID Branding," said Berger. "ID is taking a powerful and unique leadership position in the world of branding. I'm excited to be a part of it."
About ID Branding
Founded in 1979, ID Branding is a full-service brand culture agency that helps companies build and sustain rich and enduring brand cultures. In an era where image is not enough, ID Branding reinvigorates a company from the inside out to develop an integrated brand culture that embodies in its vision, values and beliefs in every action. The Portland, Ore.-based firm has ignited transformation for clients such as Kodak, Microsoft, Sisters of Mercy Health System, The Bonneville Power Administration, The Oregon Wine Board, Symantec, SAIF and TriMet. For more information, visit www.idbranding.com.
###