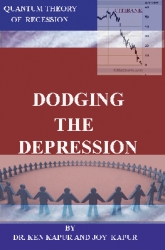 San Jose, CA, August 06, 2009 --(
PR.com
)-- We are at the start of a Great Depression which began in Dec. 2007 and and will reach its peak in 2009 & 2010. It may not resemble Great Depression on the scale of the 1930s, when output in the US declined by as much as 33% and unemployment reached 25 per cent. The output in the developed world will continue to decline throughout 2009 to 2012 – despite the best efforts of central banks and finance ministries.
*Are we Headed for another Great Depression like 1929
*Will the stock market make a new low?
*Should you invest in gold and silver and when?
*Will the dollar be devalued so that your investments in bonds lose value ?
*Will real unemployment go to 25% in the next two years?
*How can anybody avoid foreclosure and reduce payments on his mortgage?
*How can you buy real estate for pennies on the dollar?
*How can you make your investments in 401K go up whether the market is going up or down?
*How can you make a six- figure income trading in the stock market ?
*How can we solve our Energy, Social Security and Medicare problems?
*(You will find answers to these questions in Dodging the Depression 2009-2015
The Internet has generated 7 Trillion dollars worth of wealth in the last 20 years and we can generate 70 Trillion dollars worth of new wealth in the next 30 years, but how? First we must learn how to Dodge The Depression 2009-2015.
This book is for those who wish to avert the depression, preserve and grow what they have. By buying this book you also get a Free newsletter twice a month updating the information about the markets and the economy, which will otherwise cost you 50 times the value of the book.
The book is written in two parts. The first part is written by Dr. Ken Kapur outlining how we got here and how to get off this tiger without getting hurt. The second part is written by Joy Kapur author of This Is No Secret discussing the Quantum Theory of Recession. This is No Secret is the Award-Winning Finalist in the Eastern Religions category of the National Best Books 2008 Awards, sponsored by USA Book News.
###