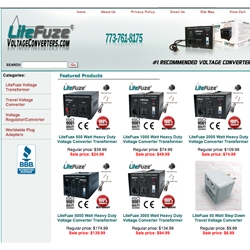 Chicago, IL, August 10, 2009 --(
PR.com
)-- Bombay Electronics, the leading retailer and distributor of multi-system electronics, cell phones, voltage converter/transformers, plug adapters, travel converters and 220 volt electronics/appliances, has just launched their brand new website
Litefuze Voltage Converters
. The new website is dedicated towards voltage transformer, travel voltage converter, voltage regulator and worldwide plug adapters. The new website design provides online visitors with easy navigation menu, clean appearance, easy accessibility and secured shopping experience. Regularly updated the new LiteFuze Voltage Converters website is worthy of bookmarking for regular visits by anyone traveling/moving abroad, bringing electronics from abroad to the USA or using US electronics abroad.
www.LiteFuzeVoltageConverters.com is designed in direct response to Bombay Electronics's research into what the customer really wants. After obtaining the LiteFuze brand dealership from Enovize, Inc, Bombay Electronics offers the complete line of voltage converters and meets all customer's demands from a very basic plug adapter to high volume buyers such as government or industry officials. The new website site features a voltage guide, world plug adapter chart, product comparison and search feature to easily access extensive information. The secured website accepts all major credit card payments and also offers a PayPal payment option. Limited time offer, use coupon code "litefuze" at checkout on any purchase from www.litefuzevoltageconverters.com and get 5% off of already low prices, offer ends 9/15/09.
For over 9 years, Bombay Electronics has offered consumers with large selection of multi-system electronics, unlocked cell phones, voltage converter/transformers and various 110/220V electronics at a very competitive price. They are a group of highly experienced professionals who are best know for providing the highest standard of customer service with expert sales and products consultation in order to maintain complete satisfaction from their customers. Bombay Electronics maintains an excellent customer feedback record with the Better Business Bureau, and other sales channel such as eBay and 3rd party sites such as Reseller Ratings. Don't forget to use the coupon code "litefuze" at www.litefuzefvoltageconverters.com for 5% off, offer ends 09/15/09.
###