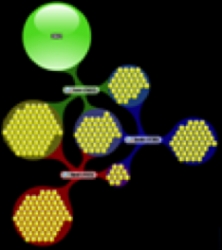 South Lake Tahoe, CA, August 24, 2009 --(
PR.com
)-- Today at the 2009 HTCIA conference (High Technology Crime Investigation Association) Vound, LLC, announces the commercial availability of Intella 1.2, an innovative email investigation and E-Discovery tool. Intella's powerful indexing search engine and its unique visual presentation enables investigators of all types to quickly and easily search and review email and electronically stored information to find critical evidence and visualize the relevant relationships.
In development for over 2 years, Intella 1.2 was built from the ground up and specifically designed to assist investigators (whether law enforcement, forensic consultants, or enterprise) examine the ever growing, evidence-rich email files that are proliferating in business and personal communications today. Using a unique visual presentation it highlights relationships and allows investigators to "search, explore and report" with ease.
Intella also indexes and searches other user created files such as Microsoft OfficeÒ files, images, and other work-files equally well. Intella's unique visual cluster map presentation of results enables investigators to immediately visualize complex and critical relationships and drill down to the most pertinent evidence and data.
Ideally suited for investigating intellectual property theft, improper email usage, or inappropriate images; or performing eDiscovery preparation, Intella is also exceptionally easy-to-learn and simple-to-use by all levels of computer users.
"It is only fitting that we make this announcement at HTCIA," said Peter Mercer, Intella's chief architect and the head of Vound, LLC. "The commercial availability of Intella 1.2 is an important milestone for us and it is appropriate that we launch it at this year's HTCIA. Just a year ago at HTCIA in Atlantic City we introduced the beta version of Intella. With thanks to our many supporters and evaluators and their exceptional feedback we are proud to announce Intella 1.2. We know agencies and companies around the world will find it easy to use and effective in all types of investigations." Mr. Mercer will be teaching classes on Intella 1.2 at HTCIA.
About Vound, LLC:
Vound, LLC is a joint venture between Aduna and Forensics Matter. Aduna, based in the Netherlands, is a recognized leader in semantic technology, i.e., developing technologies for extracting, mining and revealing semantics in information. Forensics Matter is a Sydney, Australia-based computer forensics consulting and software firm serving clients world-wide. Clients include law enforcement and government regulatory agencies as well as Global 500 enterprises.
For more information about Vound, LLC and Intella, visit: http://www.vound-software.com/
###