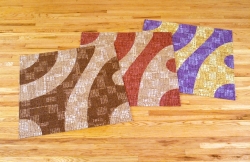 Tustin, CA, September 14, 2006 --(
PR.com
)-- At the HD Boutique Expo in Miami Beach, Fla. (Sept 18-19), Binvetec LLC will showcase Kaleidoscape Carpet Tile, a hip, modular flooring system that offers dramatic installation and maintenance economies for the hospitality, gaming and retail industries.
Kaleidoscape Carpet Tile can be installed far faster than traditional flooring, and its modular, 3' x 3' format ensures that localized damage, however severe, can be rectified with the replacement of a single tile rather than the re-flooring of an entire room. Rotating and grouping the commercial-grade tiles, each of which contains exactly the same design, creates an endless and visually stunning array of configurations and patterns. Just six tiles create 4,096 different designs. Sixteen tiles increase the number of potential patterns to more than 4 million.
The cutting edge carpet tiles are affordable and easy to install, averaging just a few minutes for a modular rug and a few hours for an entire room. The tiles feature TractionBac™, a non-slip, padded backing that eliminates the need for adhesives and therefore leaves no sticky residue after removal.
Available in nine different color combinations, the environmentally friendly carpet tiles are fashioned from recyclable materials, contribute to LEED certification points and comply with the Carpet & Rug Institute's Green Label Plus standard for indoor air quality. Kaleidoscape Carpet Tile sells to industry and design professionals for $27 per tile ($3.00 per square foot). Binvetec also offers floor design consultations and installation services.
To schedule up an appointment with Binvetec's founder, Edward Borlenghi, please contact Susan Wildes at 323.356.6115 or swildes@gmail.com. For more information visit www.binvetec.com.
###