DiMora Motorcar Builds Tomorrow's Luxury Automobile on Radical Foundation
D-Tek™ chassis debuts on $2 million Natalia SLS 2 sport luxury sedan before widespread industry use.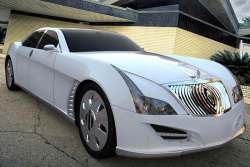 Palm Springs, CA, September 08, 2009 --(
PR.com
)-- www.dimoramotorcar.com – DiMora Motorcar is breaking many technological barriers in the development of the Natalia SLS 2 sport luxury sedan. Its revolutionary D-Tek™ chassis is simple to build and sheds hundreds of pounds from the vehicle weight.
It is no secret that when you lighten the weight of a car, less energy is used for acceleration and fuel mileage improves. In 125 years of automotive development, engineers and designers have invented countless ways to reduce chassis and body weight while maintaining structural strength. Where steel I-beam or box frames once dominated the industry, tubular space frames or unibodies using steel and aluminum have successfully reduced the chassis weight and are now widely used.
In contrast, the DiMora D-Tek™ System is based upon decades of progress in aerospace design, precision manufacturing, and composite materials development. At its heart is the honeycomb sandwich panel used to reduce aircraft weight while providing superior structural strength and longevity compared with traditional wood, steel, and aluminum construction.
To build a D-Tek™ chassis, honeycomb sandwich panels are produced to precise dimensions, including slots for joining with other panels. Chemical bonding agents are used to seal joints between panels, augmented by quick-fit fasteners as needed to secure fenders, doors, etc. The chassis is built on a flat table without fixtures because of the precision fitting of the lightweight panels and the quick setting of the bonding agents.
The benefits of D-Tek™ chassis construction go far beyond just weight reduction. No special tooling is needed at the factory. The panels cannot be assembled incorrectly. Sound insulation, vibration dampening, fire and smoke suppression, and even electrical wiring can be built into the panels. The panels can perform double-duty as flooring, bulkheads, firewalls, etc., whereas traditional tubular space frames and unibodies do not. The chassis is largely recyclable.
The Natalia SLS 2 is a very large luxury vehicle, over 20 feet long. Yet remarkably, its D-Tek™ chassis weighs only 457 pounds, and can be assembled quickly by factory workers after minimal training.
The D-Tek™ System pioneers a structural manufacturing system applicable to diverse industries. From satellite platforms, to automotive chassis and bodies, to wall and ceiling structures, to countertops, the uses of this technology are unlimited. By providing a standard set of design and manufacturing techniques, D-Tek™ allows designers and engineers in various fields to explore new applications and take advantage of the many benefits of D-Tek™ panels.
DiMora Motorcar is making the D-Tek™ System available on an industry-wide basis. D-Tek™ honeycomb core materials offered currently include aluminum, titanium, thermoplastics and Nomex, while facing options include lava rock materials, carbon fiber, aramids, woven thermoplastics, aluminum, and fiberglass. Many other core and facing materials can be specified to meet a client's requirements for strength, weight, insulation, features, and cost. Engineers may select thicker or thinner facing sheets, different alloys, specific anodized treatments to aluminum, multiple facing layers of different materials, or multiple types of core cell patterns and sizes, in different densities, thicknesses, etc., to meet virtually any design requirement.
About DiMora Motorcar
Based in Palm Springs, California, DiMora Motorcar crafts automobiles designed to exceed expectations for safety, performance, technology, ecology, beauty, comfort, and luxury. The D-Tek™ System is only one of many technologies being pioneered by DiMora Motorcar for the automotive industry and other applications. The company is the first to reveal the design, production, and testing of its automobiles via the Internet so that people around the world can learn about--and participate in--the process.
The founder, CEO, and driving force behind DiMora Motorcar, Alfred J. DiMora, produced two of America's finest luxury automobiles, the Clenet (as owner) and the Sceptre (as co-founder). When President Reagan declared 1986 the Centennial Year of the Gasoline-Powered Automobile, Mr. DiMora's Clenet was selected as the Official Centennial Car. As a result, he and the Clenet were honored at the Automotive Hall of Fame in Michigan. He also founded Starbridge Systems, Inc., where he developed the FPGA supercomputer. Using his technological and automotive backgrounds, Alfred DiMora blends the two worlds together to create this new experience in automotive history, the Natalia SLS 2. For more information, please visit www.dimoramotorcar.com.
###
Contact
DiMora Motorcar
Robert Bliss
760-534-2317
www.dimoramotorcar.com
1775 E, Palm Cayon Drive
Ste. 110-121
Palm Springs CA 92264

Contact