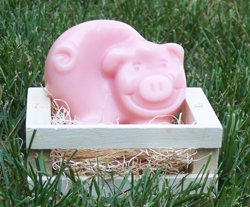 West Des Moines, IA, September 11, 2009 --(
PR.com
)-- The swine flu, or H1N1 virus is on everyone's mind these days. Is this truly a threat, or just another unnecessary worry? One thing the experts can agree on is that washing our hands frequently is something that we can do and should do.
But what should we wash our hands with? There are a plethora of products – antibacterial, alcohol-based gels, pump soap, or just ordinary soap? This is another area where the experts are in agreement – regular soap and water do the trick when running water is available. Studies have shown that antibacterial soap poses no advantage over regular soap. And, there are distinct advantages to using a natural soap – no harsh chemicals, plus they contain glycerin to keep your hands moist.
Soapourri Natural Bath & Body's Swine Flu Soap is in the shape of a pig – a humorous way to snag our attention and remind us to wash those hands. The pink piggy soap is a generous 6 ounces of handcrafted glycerin soap, scented with natural peppermint essential oil for a fresh clean fragrance. It comes in its own wooden crate, standing in a bed of straw. It can be found at http://www.soapourri.com.
Customers have been buying them for their own homes to remind their family members to wash, and also have been buying them for gifts for college students and grandchildren.
Cindy Helgason, owner and soapcrafter at Soapourri, has been handcrafting soaps and bath and body products since 1999. Her most recent creation was a "Man Soap" line, including bacon-scented soap and motor oil-scented soap.
###