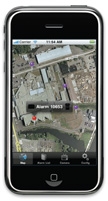 Newtown, PA, September 16, 2009 --(
PR.com
)-- Optellios announced today that it has developed a mobile alarm monitoring platform, the FiberPatrol® iPatrol software, capable of communicating valuable security information to people on the move. The launch of the new iPhone App allows for instant communication of alarm information to security personnel for assessing security threats in real time. The phone will display the exact GPS location on a satellite image and calculate the directions to the location of the alarm. Additional features include the ability to relay the alarm to others for a coordinated response, and view and control live cameras for closer inspection of the situation.
When security matters, it is important to know the exact location of an alarm and instantly communicate this information to the appropriate authorities for prompt action. As the leaders of fiber optic intrusion detection systems, Optellios has been supplying FiberPatrol® solutions capable of instantly identifying the exact GPS location of one or more simultaneous intrusion attempts at some of the most critical sites in the country. FiberPatrol® intrusion detection systems have been deployed in many sites such as DOD facilities, chemical storage locations, airports, detention facilities, power generation and substation infrastructure, and water/wastewater plants. FiberPatrol® systems are used to protect miles of perimeter to accurately identify the location of the breach typically within 10 feet even when the sensor cable has been cut.
Optellios will be unveiling the new iPhone application at the ASIS trade show in Anaheim, California, on September 21-24th. Live demonstrations will be available to showcase the application at the show.
For additional information, please visit www.fiberpatrol.com/ipatrol.php
About Optellios Inc.
Optellios, Inc., a leading U.S.-based fiberoptic technology company, is a provider of advanced solutions for sensing, security, and communication. Its FiberPatrol® line of security products leverages company's pioneering patented fiberoptic sensor technologies to provide the most advanced and cost effective security solutions for military bases, airports, power plants, water treatment facilities, pipelines, secure data networks, and other critical infrastructures and high-value assets. For more information, visit www.optellios.com.
Optellios' Press Contact:
Michael Nolan
(267) 364-5298
mnolan [at] optellios.com
###