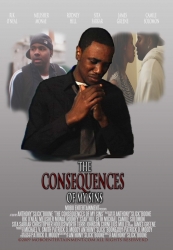 Raleigh, NC, September 17, 2009 --(
PR.com
)-- When Drew and his friends go off to college they feel like they've made it and they're on their way to productive, successful lives. Away from home and their parents for the first time they get to make their own decisions, their own choices, but they quickly realize choices have Consequences, some big, some small...some deadly.
All Drew wanted was to get his degree, get a job and provide for his family. What he got was an education of lifetime. Nothing in a classroom could ever prepare him for what was to come. And it's going to take more than a good GPA for him to survive.
Customer review (via Amazon.com):
"I was fortunate to have seen a private screening of 'The Consequences of My Sins'. This film was powerful, it touched on so many key issues that are happening in our communities today! Very well written. Empower yourself...It is a must see. Bravo to the cast and those people behind the scenes for producing a movie that's for everyone!" - Barbara S.
With a terrific young cast, a realistic plot and an amazing twist at the end, Consequences will take you on an emotional roller coaster ride that will continue long after the credits have ended.
Cast:
Rik O'Neal, Malisher Monae, Rodney "Star" Hill, Seth Michael, Camille Solomon, Sita Sarkar, James Greene
Written & Directed By: Anthony "Slick" Boone
Produced By: Patrick O. Moody, Michael V. Smith & Anthony "Slick" Boone
###
For more information:
MoBo Entertainment, Inc
Raleigh, NC 27604
919-255-9108
moboentertainment.com