New Patent Awarded for Originatic's Wall-Mountable Computer
Originatic LLC was awarded a new patent for its wall-mountable computer, the Smart-Leaf. The Smart-Leaf is an all-in-one, wall-mountable computer with a fold-out keyboard and optional touch screen.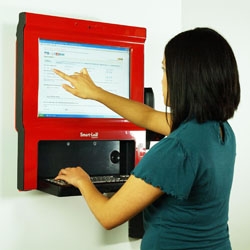 Chicago, IL, September 20, 2009 --(
PR.com
)-- A patent for a wall-mountable computer has recently been granted to Originatic LLC of Chicago, Illinois.
The uniqueness of the computer, sold as the "Smart-Leaf," relates to its wall-mountable design and integrated, fold-out keyboard. The Smart-Leaf can be mounted to the wall for convenient computer access, and it can be used on a desktop with its integrated, fold-down desktop stand.
Originatic launched its Smart-Leaf computer in March 2009. Since then, the company has sold the Smart-Leaf to customers in three countries.
According to Reno Smith, Originatic's General Manager, "We see a strong, global demand for the Smart-Leaf, especially as companies look for more ways to increase customer satisfaction and operational efficiencies. Because of its durable design, the Smart-Leaf serves as a kiosk – one that occupies no floor space, is easy to use, and is quite affordable in the kiosk market."
When asked about the consumer market, Mr. Smith said that the Smart-Leaf will not replace the desktop or laptop. In the larger households, he said, "The Smart-Leaf will serve as a central computer hub, accessible to all family members for easy online access and PC access."
The base model starts at $1,982. Depending upon the options, the Smart-Leaf features a touch screen, webcam, TV tuner, WIFI, scratch resistance, splash-proofing, keyboard lock, and power lock, all packaged in a compact form with a slim profile.
The new patent, U.S. Patent No. 7,589,958, was issued on September 15, 2009 and is entitled "Mountable Electronic Device Having an Input Device." It strengthens Originatic's patent portfolio, which currently includes 7 issued patents, 2 allowed patent applications, and 17 pending patent applications in 12 countries, including the World Intellectual Property Organization.
For more information, visit www.smart-leaf.com.
About Originatic LLC
Originatic LLC is engaged in the ongoing invention, development, and commercialization of new and patentable technologies to meet the needs and desires of consumers, businesses, and markets around the world. Originatic is a limited liability company, headquartered in Chicago, Illinois.
Contact
Originatic LLC
Reno Smith, 888-215-3253 x4
rsmith@originatic.com
###
Contact
UBR Publications
Kevin Short
312-214-4932

Contact