What to do When You're Not Hitting Your Quota? Read '42 Rules to Increase Sales Effectiveness' by Michael Griego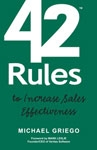 Cupertino, CA, September 22, 2009 --(
PR.com
)-- Author Michael Griego condenses years of education, professional expertise, and personal experience into 42 Rules to Increase Sales Effectiveness. When sales teams everywhere are being laid off, and hitting quota isn't as easy as it used to be, it's time to change the rules. '42 Rules to Increase Sales Effectiveness' provides the professional salesperson, sales manager or director, VP of sales, CEO, with updated tools, language and tactics of selling in today's market. Griego will be featured in a free 30 minute webcast on Sept 24 at 10:00 am PT. To register for the webcast, please visit http://42rules.com/michaelgriego/webcast/
"This book will challenge standard conventions while reinforcing best practices that have gotten lost in the recent advancement of new technologies and modern tools," says Griego. "Use it as your own handbook to reset on key best-practices for the new day or teach a new generation 42 nuggets and practical applications of this fascinating activity called Sales."
"I've been around sales and selling for 30 years, attended every program and read nearly every book on the art and science of selling. In a highly readable format, Mike Griego's book reconfirms and realigns modern sales and sales management best practices. It's a worthy tool for today's sales reps, sales managers and executives," says Dr. Jeffrey Magee, bestselling author, publisher of PERFORMANCE Magazine.
"As the publisher of 42 Rules, we are proud to be able to add Mike's wealth of knowledge to our sales and marketing content," says Laura Lowell, founder and executive editor of 42 Rules. "Mike is a pioneer in sales effectiveness and is an inspiration to sales teams everywhere."
The book is available from
http://www.42rules.com/michaelgriego
[Super Star Press].
About the Author
Michael Griego is president and founder of MXL Partners, a Silicon Valley based sales consulting firm providing sales training, consulting and management services. Michael brings over 25 years of experience to his clients and workshops. After a successful sales and management career at high-tech firms like IBM, XL/Datacomp (StorageTek), Dataquest (Gartner Group), Zona Research (Intelliquest), Active Decisions, Michael is now a popular sales trainer, sales process consultant and keynote speaker for companies worldwide. He has a BA degree from Occidental College and an MBA from Stanford University.
About 42 Rules ™ and Super Star Press
Super Star Press, a division of Happy About®, was founded to help independent professionals establish themselves as experts in their field through writing, publishing and marketing books. The 42 Rules ™ book series delivers wisdom in the form of compact, high-impact books on personal and professional growth. To learn more visit http://superstarpress.com/about_us.html. For quantity discounts, please contact the publisher, Mitchell Levy at mitchell.levy@happyabout.info - 408-257-3000.
###
Contact
42 Rules
Jessica Schmidt
408-832-1674
www.42rules.com

Contact