All Inclusive Excursions Invites You to Visit Belgium
Enjoy this great opportunity to visit Belgium with All Inclusive Excursions. Don't forget your passport.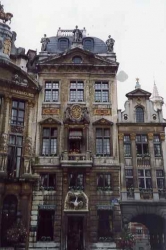 Dallas, TX, September 23, 2009 --(
PR.com
)-- Brussels is the largest urban area in Belgium with a population of over 1.8 million of both Dutch and French speaking populations. Although once considered more Dutch than French, it is now much more evenly distributed and both languages have an official status within.
As with most European countries, Belgium has a rich historical past which is easy to see by looking at the architecture surrounding you in Brussels. It spans from Medieval construction to post modern making it a very interesting variety. One of the main architectural attractions is the Grand Place.
The Grand Place was first at the center of the city's commercial district and was constructed between the 15th and 17th century in a variety of styles. It is a collection of buildings used for different purposes including one of the houses which is now home of a brewer's museum and was named a World Heritage Site in 1998 by UNESCO.
Brussels has a well known artist scene as well. The famous surrealist Rene Magritte studied in Brussels, and the city is actually the capital of the comic strip and even contains the Belgian Comics Museum. There are over 80 museums found in Brussels which contain a wide variety of art.
Of course you can't go to Belgium without sampling the waffles. There is even a waffle named the Brussels waffle which is prepared a bit different from other waffles and is usually lighter, and thicker than other waffles. You can find this tasty treat right on the street as vendors sell them throughout the city.
Public transportation is also an integral part of Brussels. Which includes underground lines, bus and tram systems and also has a high speed rail network connecting Brussels to other cities in Europe.
All Inclusive Excursions
is offering its members this great opportunity to stay at Ibis Brussels Centre St. Catherine, for 3 nights for only $112.00 if you book by November 30, 2009.
Located in the heart of Brussels, you will be truly in the center of it all as you are near to the Grand Place. Also near to many of the museums and popular shoping areas.
The Ibis Brussels Centre St. Catherine is a 3 star hotel which includes air conditioning and WiFi for the traveler. It includes 236 rooms all of which are modern and spacious with everything you need.
Enjoy this great opportunity with All Inclusive Excursions. Don't forget your passport.
Please call their office for exact pricing on your specific case. Thank You.
Per person, double occupancy,
Price after rebate, if applicable.
Price not guaranteed until booked
Does not include taxes and fees
Subject to availability
###
Contact
All Inclusive Excursions
John Roberts
972.385.0416
www.visitallinclusiveexcursions.com

Contact