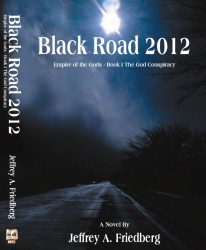 Albuquerque, NM, December 02, 2009 --(
PR.com
)-- Author Jeffrey Avalon Friedberg was a real private eye and writes from direct experience. Black Road 2012 fully engages a reader's interest, mind and adrenal glands. It's an exciting yet easy read, written in a fast paced, yet literary style that will keep the reader turning pages, almost unable to put the book down, a captivating personal adventure for the reader.
Black Road 2012
is a paranormal thriller structured around the ancient Mayan Doomsday prophecy--said to fulfill itself on December 21, 2012, at 11:11 AM, when the sun will align with the center of the galactic core, the current world Age will end, and a New World Age will begin with flood, famine, and the end of God.
In Black Road 2012, a young woman and her unborn twins are murdered. Her ex private eye husband Jack Vane finds himself charged with the murders, and somehow at the center of a sinister global conspiracy.
Jack Vane is hunted by dark forces from this world and another--forces hell-bent on using a terrible secret to enslave Earth and all of Humanity.
Sited in eerie New Mexico, Black Road 2012 features singular Native Americans, mythology, and philosophy. It also presents stirring adventure, a love story, and draws the dark curtain of history, revealing shadow governments, lost ancient science, a sinister mystic relic--and more.
http://tinyurl.com/Paranormal-Detective-Thriller
###