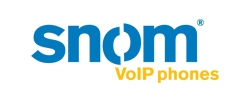 Beverly, MA, October 06, 2009 --(
PR.com
)--
snom Technology AG
, a leading developer and manufacturer of advanced voice over IP phones for enterprise and residential markets, announced today it has teamed with
Jazinga
Inc., maker of an Asterisk-based blended IP PBX and router for small businesses, a technology partnership that continues snom's leadership in interoperating with open source Asterisk-based VoIP platforms.
Through the pairing, businesses can now use snom's portfolio of voice over Internet protocol (VoIP) phones in concert with Jazinga's all-in-one MGA120 appliance to ease deployment of VoIP systems and reduce IP telephony costs in the SMB. The interoperability between snom's suite of SIP based business phones and Jazinga's MGA120 IP PBX appliance creates a fully integrated end-to-end IP-based phone system for small businesses that blends robust enterprise-class IP PBX and networking features at a dramatically lower price point than alternative solutions.
"We are pleased to be working with Jazinga and believe this collaboration is a testament to snom's continued leadership in the open source community as we continue to team with best in class platform partners to deliver superior IP telephony solutions to the enterprise and small business markets," said Dr. Michael Knieling, Executive Vice President of Marketing and Sales for snom technology AG. "Jazinga's MGA120 IP PBX platform offers a compelling set of functionality that addresses a number of key requirements for businesses and enables SMBs to boost productivity while lowering their operating costs."
Jazinga's MGA120 IP PBX router is an Asterisk-based VoIP phone system that allows small businesses with up to 20 employees to take advantage of features like wireless networking, WAN connectivity, LAN services, dynamic DNS, e-mail and fax. The Jazinga appliance costs a fraction of other enterprise-grade systems and can be set up in less than 10 minutes via a do-it-yourself set of setup wizards. Additional telephone features offered by Jazinga include an auto-attendant, voicemail, conferencing, call forwarding, unified voicemail-to-email, on-hold music and more. Jazinga also incorporates Quality of Service (QoS) and firewall capabilities.
"Jazinga is excited to join snom's partner program," said Gord Wade, Vice President of Sales and Business Development. "snom's portfolio of IP endpoints is auto-provisioned with Jazinga's MGA120 platform enabling non-technical users to manage the phones and system themselves. This provides our small business customers with an intelligent, manageable endpoint that blends rich features and unique style and design."
The new partnership enables Jazinga users to take advantage of snom's portfolio of SIP-based commercial-grade VoIP phones, including the snom 320, snom 360 and snom 380, and the new snom 820 and the snom 870 touch-screen phone, all of which integrate with an Asterisk platform. Additional snom products include the snom MeetingPoint conferencing phone and the snom m3 IP DECT phone. Along with interoperating with Jazinga's IP PBX, snom's intelligent SIP endpoints also support a variety of unified communications applications including Microsoft Office Communications Server (OCS) 2007 R2 via its special snom OCS firmware.
About snom
snom technology AG develops and manufactures VoIP telephones and related equipment based on the IETF open standard, SIP (Session Initiation Protocol). Recognized for its high quality, customizable, and cost-effective business solutions, snom is also differentiated by the company's history in the VoIP industry, and its dedication to high security standards. All of snom's software exists in the firmware on the phones – making it easier for users to download updates and new features. snom customers benefit from the interoperability and flexibility that the snom telephones offer, including plug and play integration and universal compatibility with any SIP-based telephony platform. Founded in 1996 and headquartered in Berlin, Germany, snom technology AG also has an office in Beverly, MA. The company distributes its fourth generation SIP phones through its network of authorized reseller partners in Europe, South America, Asia-Pac, Africa, and Australia. For more information on snom, please visit
www.snom.com
.
About Jazinga
Jazinga Inc. develops communications products for small businesses and homes. The Jazinga system provides enterprise telephony and data functionality for this market, but at a fraction of the cost and without the setup complexity of an enterprise-class IP PBX. Jazinga Inc. is privately held and headquartered in Toronto, Canada. Additional information is available at
www.jazinga.com
.
###